Low horns and tender piano notes spiral across the room. The piano chords fade away when a gong majestically interrupts, and woodwinds perk up, echoing the piano's mellow tune. The horns, piano and clarinet boom with a fierce crescendo, repeating the same sorrowful yet euphonious sound. Video game players and fanatics recognize the tune immediately: the theme suite from "The Legend of Zelda: Majora's Mask."
The song from "The Legend of Zelda: Majora's Mask," a classic Nintendo 64 game, is just one of the pieces performed this semester by the Ithaca College Gamer Symphony Orchestra, a student-run orchestra that accentuates the soundtracks that accompany video games. The orchestra, which consists of roughly 50 members, was founded by composition major Michael Samson '14, who was heavily involved in the video game and music community.
Senior Steff LoTempio, a flute performance major, is the vice president of the group and the conductor for the suite from "Zelda."
The orchestra's next performance, March 29, will feature four conductors, with seven tracks from various video games.
LoTempio said the orchestra tends to attract students because the majority of the music performed is arranged by students at the college. Student arrangers typically listen to the video game instrumentals and write down how they think it should sound in an orchestral setting, LoTempio said.
Sophomore Griffin Charyn, clarinetist and public relations chair of the executive board, said his first experience with arranging music was with the orchestra.
"I had a part in arranging the huge medley of 'Undertale,'" he said. "It's really an opportunity for anyone to take a stab at it. It's really cool for people to bring in music they love from a certain video game to the group."
Charyn said the concert will conclude with "Sogno di Volare," a piece composed by Grammy-winner Christopher Tin, from "Civilization VI." Charyn said the complex song requires a large choir to represent the piece properly. The choir holds practice sessions outside normal orchestra rehearsals. The singers only performs together with the orchestra during the concerts.
"The goal is about 50 [people] — we need a full choir for this," Charyn said. "This is going to be the most singers we've ever had on stage if everything works out."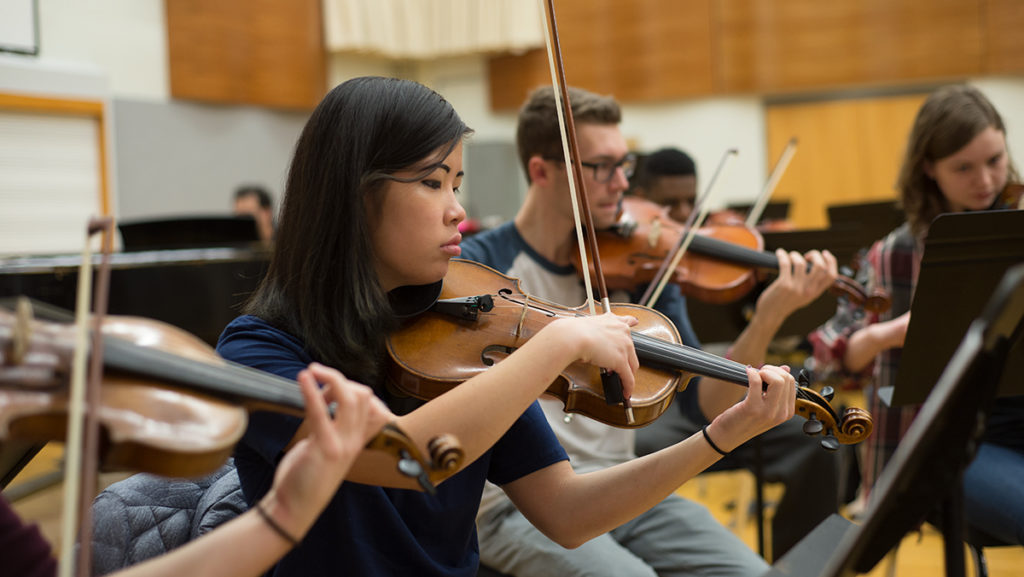 LoTempio said that while the orchestra performers are predominantly female, she's faced misogyny as a female conductor. LoTempio said male conductors are taken more seriously than female conductors, something she said she noticed as the only female conductor this semester and last. 
"[Men] seem to have a better command over the ensemble," LoTempio said. "No one really wants to talk when a guy is up on the podium. But as soon as I am … they won't take me as seriously. … I'm bossy because I'm female, but if other conductors are up there, they're just being a strong male."
LoTempio said the members of the group are making a constant effort to eradicate gender bias by recognizing that video games, and the music within them, are not strictly enjoyed by men.
"A lot of people assume video games are male-dominated, which is a fair assumption, but I don't think it's necessarily true," she said. "[That association] doesn't mean they don't like video games or … don't identify with the music."
Charyn said he feels the representation of students from both music and video game backgrounds is helping to erase nerd stigmas often associated with video games.
"Speaking of the perception of being a nerd, I really do feel it's getting more accepted — it's become more adopted," he said. "Especially when you look at the amount of people that come out to our concerts. It's a really crazy thing to see so many people invested in what we're doing."
LoTempio said members of the group aim to embrace the nerd stereotype through a love for music.
"We're trying to embrace that nerd stereotype, to ask, 'Why is being a nerd a bad thing?'" she said.
Charyn said the orchestra typically brings a full house to its semester concerts because it's a collision of the music world and the video game world.
"There's a lot of people who come to the concerts who would never want to see a classic music orchestra," he said. "So it brings folks from the other side of the fold, checking out a kind of group they might not listen to all the time. It brings these two seemingly different worlds together and helps us realize there's actually a lot of similarities between the two."
LoTempio said she thinks part of the intrigue in the orchestra is a sense of nostalgia that comes with the music.
"It hits you like, 'Oh God! In the third grade, I played 'Zelda' one time, but I remember this song,' so that's so cool," she said. "And a lot of these people aren't avid gamers."
Senior Hiroo Kajita, cellist and president of the orchestra, said playing video game music has made him feel empowered. Working alongside other cello performers, he said, motivates him to work harder as a musician.
"They sat down with me; they helped me relearn all the chops," Kajita said. "They sit down and be patient with you. The whole community is really supportive."
Charyn said the orchestra works as an outlet for students at the college who wouldn't normally play their instruments in college.
"It's unfortunate that a lot of people will play an instrument in middle school or high school and not have a good outlet," he said. "It's refreshing to see new people come into the music school and experience music with us. It's fun."
The Ithaca College Gamer Symphony Orchestra will hold a free performance at 8:15 p.m. March 29 in Ford Hall.