Though Ron Jude said playing with photographs on a computer is not as exciting as developing film in a darkroom, he installed a digital photography lab in his home five years ago.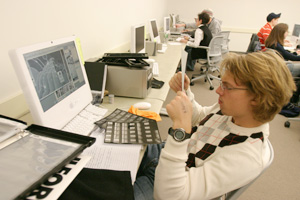 He said it's just more practical.
"I am not Mr. Digital Advocate," said Jude, an associate professor of cinema, photography and media arts. "I'm not impassioned about the process. I'm impassioned about photographic images.
Digital work is permeating the photography curriculum of the Roy H. Park School of Communications, as well. The college eliminated its digital photography class last spring, implementing a new initiative to incorporate digital into all photography classes. In order to reinforce this change, one of the two black-and-white darkrooms in the Park School was converted into a digital lab during the summer.
Steven Skopik, professor and chair of cinema, photography and media arts, said the scale of digital photography is widening.
"Digital photography is no longer a specialized niche," he said.
The Introduction to Photography class still shoots on film because it is cheaper to purchase a film camera, Skopik said. However, students are no longer editing and printing their images manually. Instead, they are scanning negatives into the Macs, editing work in Adobe Photoshop and using an inkjet printer to produce prints.
Skopik said he believes it is the faculty's responsibility to present the new medium. He said because technology is constantly changing, the curriculum is evolving with it.
Skopik himself migrated to digital image-making about seven years ago.
"As professors and photographers, we looked at our own practices, and it was a good indicator that things have changed," he said. "A lot of students were instantly nostalgic for the traditional darkroom. But we still remain committed to teaching traditional practices."
The college's shift reflects changes in film franchises. In 2005, Eastman Kodak Co. discontinued the production of black-and-white paper. In 2006, Nikon Corp. discontinued all but two of its film cameras and all large-format lenses and enlarging lenses.
Though small, medium and large-format film photography is still being taught in the intermediate photography class, digital is the focus of the photo curriculum, Skopik said.
Jude said the use of both digital and film makes a hybrid curriculum. However, he said he believes the debate is not about the media themselves, because each has its own benefits.
"It has nothing to do with philosophy," he said. "It's about pragmatism."
Senior Mike Wechsler, a film, photography and visual arts major, said he has noticed a change in attitudes concerning both media.
"Film was undisputed when I was a freshman, and it's become more and more digital work," he said. "I'm sad to hear [about] freshmen and sophomores not having the same appreciation of film."
Freshman Steve Marks said he understands why the school modernized.
"There's no point in learning about the darkroom if there won't be a darkroom in a few years," he said.
Junior Jon Gerberg said nostalgia still lingers in the Park halls.
"Film is more intimate," he said. "You have to put more passion in it."
Katie Brillhart, a junior film major, compares digital to film using other artistic tools.
"It's like using crayons versus colored pencils," she said. "They have the same palette but different feelings."
Other concerns with the emergence of digital photography include sustainability issues.
Tom Inman, an engineer in the technical operations department, said he would like to see the disadvantages of chemical photography compared to those of digital photography. In film, toxic chemicals are dumped down the drain, but in digital, a large amount of electricity is required to power labs.
Furthermore, Inman said he is concerned with the archiving of photographic images.
"There's a danger of stuff getting lost," he said. "Digital photos are not organized. People are having a hard time finding them and keeping them up to date with new formats."
Saving photographs on CDs, USB drives or zip disks does not guarantee the work will not get lost, he said. New computers don't always accept old formats saved on these disks. Therefore, technological awareness and frequent updating are essential.
Wechsler said he does not believe that film is being threatened. He said digital is convenient and change is inevitable.
"Digital is the future," he said. "And it's not entirely a dark future."
Jude said photography will always be an art, no matter what form it's in.
"How you get to that point doesn't matter," he said. "The only thing that matters is the pictures on the walls or in magazines."