Ithaca College faculty and staff have organized two petitions protesting what they regard as diminishment in the quality of health care under the college's new plan for 2007. Both petitions will be presented to President Peggy R. Williams by the end of next week.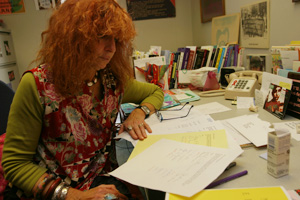 The college decided to change health insurance carriers last year when they noticed a dramatic increase in college spending, most notably in medical benefits, said Carl Sgrecci, vice president of finance and administration.
Beginning Jan. 1, the college will change its health benefits to two plans with Aetna Health Insurance, a national carrier. This fall, employees were asked to choose one of two plans. The first, a point-of-service policy plan, sets up a network of physicians as primary-care providers. If the patient chooses to use a physician outside the network, it will cost them more money.
The other option is a consumer-directed high deductible plan set up with individual health savings accounts. Employees draw from the accounts, which will accumulate throughout the years, when they go to the doctor or hospital. Deductibles and co-pays in this plan are higher, but it is set up with the philosophy that the user has more of a vested interest in their health care and will spend the money more wisely — a theory known as "moral hazard."
The theory assumes people use health care more freely and for things that can't be treated, like colds, since they are not paying for it.
Employees said they are dissatisfied by the benefits changes for several reasons.
The new plans are significantly more expensive, and savings accounts would not be desirable for most employees, said Zillah Eisenstein, a professor of politics who organized one of the petitions. Deductibles in the point-of-service plan have risen — in the individual plan to $100 and in the family plan to $300. And at least seven major physicians in the area have refused to join the Aetna network, including Cayuga Ear, Nose and Throat; Northeast Pediatrics; Family Medicine Associates; Surgical Associates of Ithaca; Jeffrey Lewis, DDS; Gastroenterology Associates of Ithaca and OBGYN Associates.
The petitions call on the college to influence Aetna and local physicians to negotiate rates and find workable solutions to employee's grievances. One petition, prepared by Eisenstein, is for all employees. The other is for employees of the School of Music and was written by Peter Rothbart, professor of music theory, history and composition, and members of the school's faculty council.
Sgrecci said health care is a national issue. He said he is aware of the petitions but feels he is already doing what they ask.
"We've kind of been on the edges, making sure the doctors and Aetna keep talking to each other," he said. "We're not involved in the negotiations directly, but we're literally pushing both groups."
Peyi Soyinka-Airewele, associate professor of politics, said five of the practices that refuse to join the Aetna plan provide ongoing care to her family. In an e-mail to Sgrecci on Nov. 24, Soyinka-Airewele said with these doctors opting out of the plan, she will likely opt out of college health benefits altogether.
"The decision I have is not merely between the limited choice of either of two Aetna plans, it is suddenly about whether I can afford and continue to get the health care I need from my doctors if I stay in the Aetna network," she wrote. "It is about a nagging worry about whether more practices will opt out of the network."
The problems with in-network physician negotiations with Aetna will affect the entire community, Sgrecci said. Cornell University and other employers have contracts with Aetna.
Eisenstein's petition requests that a "workable alternative and solution" be found, and that "at the very least [their] established doctors IN TOWN must be made available." Yesterday, she had received about 70 signatures and said she would be collecting more today.
Eisenstein expressed initial concerns in an e-mail to Cheryl Freer, director of benefits, Oct. 6. She said the high-deductible plan is worrisome because even if only 10 percent of faculty and staff opted for it, it would eliminate 10 percent of employees from the collective pool of health insurance. It also makes it dramatically more difficult for lower-wage employees to afford health care.
"This is hardly assuring to the collective faculty and staff as a whole," Eisenstein said.
The fact that Aetna only offers its employees health savings account plans suggests the future of health insurance, Soyinka-Airewele said.
"Where will we be in the next few years?" she said.
Soyinka-Airewele said Aetna's philosophy — the moral hazard theory — is based on a faulty assumption. Eisenstein said the college should have approached employees if they were having a problem with over-spending on health care.
Sgrecci said the college, like most major employers, is self-insured. This means the college acts as the insurance company, negotiating with carriers like Aetna to build a network of physicians in the community and to administer employee claims. Employees contribute some of the health insurance costs in the form of co-pays and deductibles, and the college reimburses the insurance company once the employees' claims are filed.
Sgrecci said that as the insurer, the college expects that costs of health care will exceed what employees are contributing in deductibles and co-pays, but that in recent years, costs have risen much more than expected.
Rothbart said many of his colleagues are unhappy with the way negotiations turned out, especially female employees. OBGYN Associates, a main conglomerate of obstetrician-gynecologists in town, has refused to join the network.
The School of Music petition addressed the college's Institutional Plan — specifically, its quality of worklife and first-choice employer priorities — as support. The petition states, "our quality of life will be severely undermined by the 2007 health care plan… [Its] limitations will negatively impact Ithaca College's position as a 'first-choice employer.'" Rothbart said 60 of 88 faculty and staff in the school have signed the petition.
Sgrecci said in hindsight, there was not enough communication between college employees, administration and the health benefits committee set up to feel out options.
"We've learned something from this," he said.
Gossa Tsegaye, assistant professor of television and radio and chair of the faculty council, said he was disappointed the petitions were not presented to the faculty council. He said shortcutting the process undermines the faculty council. Tsegaye said he brought Sgrecci and Williams to multiple council meetings this fall to inform faculty.
"Having this be the avant-garde of health concerns, the revolutionary mentality … sets a major question mark about the integrity of the faculty council," he said.
Sgrecci said the tone of the negotiations seems to be improving, and that his main concern is that employees are able to continue with their current physicians.
"I can't offer our employees any assurances yet," he said. "But I am cautiously optimistic."
Eisenstein said employees are not blaming the college, but the plans are highly privatized and unacceptable.
"We are not saying this is a problem of Ithaca College," she said. "What we do think is that Ithaca College is doing this terribly, and as workers here, we are really being violated."
"Health care is the bottom line," she said. "We need affordable health care."