Juniors Kimberly Pitkin and Anthony Bisalti found themselves in the parking lot of a Wal-Mart in Sioux Falls, S.D., with a big problem on Election Day.
Pitkin said the TV purchased to tape local coverage couldn't fit in the car.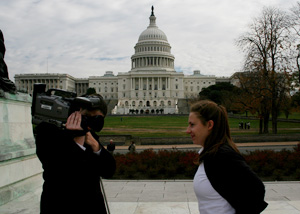 "We had no choice but to get the shopping cart," she said.
Using a stolen shopping cart, students wheeled a huge TV across busy streets to their hotel — all for their final project for their Documentary Research class.
Eighteen other television-radio students have been pursuing their 15-minute pilot films with similarly rigorous, but less physical, goals during the semester. Some followed the single dating scene in New York City, while others went to Washington, D.C., and Philadelphia researching the art of political cartoonists.
A core concept behind Documentary Research is jumping head first into the world of documentary filmmaking. Ben Crane, professor of television-radio, started the course in 1983 and has been teaching it ever since.
"I think of this course as a degree program unto itself," Crane said. "Students will learn so much that they will be able to go out into the professional world afterwards."
Now, students signing up for the course are knowledgeable of the work that lies ahead. At press time, about half the seats in the class were filled for next semester. Students know that travel, expenses and time factor into making a successful documentary. For most students, it's the experience and self-fulfillment that make Documentary Research such a beneficial course.
Skills like networking, camerawork, editing and finance are also important. Crane splits students into teams of six or seven. He bases his selections on what he thinks they can bring to their individual teams.
One group this semester, Impromp2 Productions, created T-shirts, business cards, legal pads and a Web site.
Senior Kate Sirianni said she felt the pressure from the high expectations of the class.
"This is the equivalent of quantum physics for TV-R," Sirianni said.
Members of 1 Ton Media, one class group, spent most of their fall break in South Dakota tracking an anti-abortion bill, which was recently voted down in the November elections. Once there, they sought out anti-abortion and abortion rights activists who could contribute to their documentary.
Pitkin said residents sought them out.
The Truth Truck, an anti-abortion vehicle with pictures of aborted fetuses on the exterior paneling, drove by group members while they filmed. Pitkin and her teammates chased after it and boarded the truck. Once inside, Pitkin said they met John O'Toole, an anti-abortion activist with a megaphone who was yelling at passing cars and pedestrians.
"Out of the corner of my eye, I caught something that looked like a truck with fetuses on it," Pitkin said.
Sophomore Sara Gerstenblatt said she witnessed the police pulling over O'Toole for a noise violation.
"Some people were giving him the finger, while others were cheering him on," Gerstenblatt said.
Junior Isaac Zucca said he values learning the documentary process.
"Being a documentary producer isn't always about the documentary," Zucca said. "It's about trying to make [it]."
Students must also learn to work with people. This rings true for students in 1 Ton Media. One woman, an anti-abortion activist, met the group during its run-in with the police in the Truth Truck.
Junior Colleen McAllister of 1 Ton Media said the woman treated the group to lunch and had them over to her house for dinner.
"She's very concerned and calls me constantly to see how we are," McAllister said.
Some students take their work beyond the semester. Crane will occasionally work with students to develop their projects. He helped students with the 2005 documentary "Walk the Line," which was shown at film festivals through this past summer.
Crane said he continues to be impressed by the motivation of students. He enjoys watching them during the semester to see how they have changed.
"They learn a lot about working in teams, but they also learn about themselves," Crane said.