Though this year marks the 21st anniversary of the federal holiday dedicated to Martin Luther King Jr.'s life and legacy, Deb Mohlenhoff, coordinator of community service, leadership and development, said many of today's young adults have never heard the activist's messages for themselves.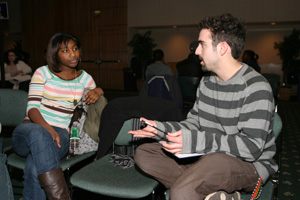 "Not a lot of people in today's generation hear direct messages from Dr. King all the time," she said. "Not a lot of students have seen him speak, or seen the speech or have truly listened to his words."
A celebration of King's life began Monday under the direction of the Martin Luther King Jr. Scholars, the Office of Multicultural Affairs, and the Center for Student Leadership and Involvement. The weeklong program of events, a second-year tradition at the college, is meant to continue the legacy King left society, Mohlenhoff said.
"We used to have a luncheon and it was the one thing we did," she said. "We felt it wasn't hitting what the purpose of celebrating was. The purpose of celebrating is continuing to work on the initiatives [King] put forward."
Last January, President Peggy R. Williams announced the college's plans to dismiss classes on Martin Luther King Day in favor of holding campus-wide celebrations and discussions. The official observation of the day will begin in January 2008.
John Rawlins, assistant director of the Office of Multicultural Affairs, said the majority of the responsibility for planning the events was given to the MLK scholars this year. He said four out of the six events this week were discussions to generate participation and opinions about the holiday.
"[It gives] students the opportunity to come together, no matter who you are or where you're from, and just really talk about issues that we all have going on in our society," he said. "We all talk about it in our small groups or cliques, but now there is an opportunity for everyone to come out and speak together as a community."
Mohlenhoff said the scholars aimed to bring different schools on campus together to have a unified celebration. She said the School of Music took the first step toward this goal through its tribute concert to Martin Luther King Jr. last Monday in Ford Hall.
The concert included vocal and instrumental performances from more than 200 college and community musicians, and reflected on four contributions King made to society and the world: faith; civil rights and social justice; nonviolent civil disobedience; and peace/anti-war activism. Rawlins and three students also read passages from King's speeches and sermons.
"The turnout was excellent," he said. "You saw a lot of people from the community — students, faculty, staff and administration."
On Tuesday, MLK scholars organized "Stations of Progress," an interactive community forum representing contemporary civil issues, including Racism and Discrimination and the Crisis in Burma and International Policy.
Sophomore Elizabeth Espada, an MLK scholar who helped organize the event, said it drew groups from across campus to share their vision for the future.
Senior Kaitlin Hasseler, a member from Students Taking Action Now: Darfur (STAND), discussed Darfur and said working to end violence and destruction reflects King's message about humanity.
"As human beings, whether we are directly related or not, we have to do something about what's going on and to act," she said.
Other events include "How to Change the World," a panel discussion last night with Ingrid Frank, a Holocaust survivor who worked with King; and a screening of "Boondocks: Return of the King" tonight in Textor 103.
On Monday, an open forum in Emerson Suites sponsored by CSLI and OMA will give direction to the college's first day of celebration next year.
Rawlins said a celebration at the college is important for students, especially those who don't celebrate in their hometown.
"This might give people the opportunity that they need, there are so many possibilities," he said. "Everyone can bring their ideas and input and say 'at least I had a say' … that way we all participate together as a college community."