Jennifer Hayghe, assistant professor of music performance, recently released her first solo album, "Paintings from the Piano." At her Wednesday recital, titled "Love, Death and Ecstasy," she will perform pieces by Granados, Scriabin, Brahms, Busoni and Prokofieff. Staff Writer Patrick Doyle spoke with Hayghe about her musical experience and how she prepares for each performance.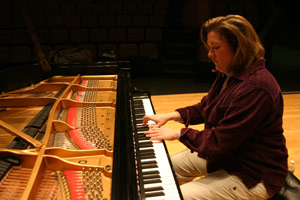 Patrick Doyle: How have the composers of the music you're performing influenced you?
Jennifer Hayghe: I wanted to learn a Scriabin sonata. I wanted to perform some Brahms pieces and that's kind of where the program started. Then I went back and found some old favorites. The Busonian, Prokofieff pieces that I'm playing and the Granados are pieces that I've performed before. I'm very comfortable with the whole 19th and early 20th century idioms for the piano. And I think these are kind of unusual pieces or an unusual grouping of them, something I thought people would enjoy listening to.
PD: How much practice goes into each recital?
JH: I practice multiple hours every day or as often as I can, really in the past couple of weeks. With school not in session, I've been able to bump it up and spend three to four hours a day at the piano. … It's really the culmination of a lot of years of practice and then actually running that last lap and finishing everything off at the end.
PD: Is there any room for improvisation when playing other composers' songs?
JH: The creative part about performing classical music comes with your own interpretation. You have to interpret how to read the score, and so you're always reading what the composer wrote. But then you're trying to figure out what he meant or maybe you've got your own twist on, well, "This is how I think that phrase should go expressively and musically." … The creative aspect of it is creating the emotional intent of the music, trying to recreate what the composer wrote in my own words.
PD: Where does the title "Love, Death and Ecstasy" come from?
JH: The Granados' work is called "The Maiden and the Nightingale." Granados wrote an entire opera called "Goyescas" about young maidens and young men called Mahas and Mahos, in Spain, and it's a typical operatic story about two people who fall in love, and, of course, somebody has to be killed in the end. … Scriabin actually wrote a sonata and other orchestral pieces called "The Palm of Ecstasy." He's kind of an odd, unusual character in compositional history. It's some very unusual music, but ecstasy was always a theme of his music, so this is representative of that. The Brahms pieces are just basically 19th century German romantic pieces, but 19th century German romanticism is all about love and death.