Rush night in Clark Lounge was BYOB, but instead of cases of Keystone, pledges were told to "bring your own banana."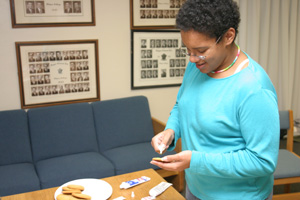 This twist on a traditional fraternity idea was part of last week's ice cream social rush event sponsored by the academic fraternity Phi Mu Alpha Sinfonia. PMAS, which is substance-free like all on-campus fraternities, poked fun at fraternity stereotypes with their playfully titled rush night.
For the past two weeks, the college has hosted "Greek Week," a series of rush nights presented by the four on-campus fraternities in conjunction with the Inter-Fraternity Council, which governs the fraternities and promotes awareness of them on campus.
The rush nights were informal and social, and included an improv comedy night, magic show and a murder mystery activity — each sponsored by a different fraternity.
John Marnell, a member of PMAS and president of the Inter-Fraternity Council, said there are around 50 on-campus fraternity members in all. He said rush events sponsored by on-campus fraternities are open to all students.
"We're a fairly tight-knit community, but I would hardly say we're exclusive," Marnell said. "That seems to be a misconception some people around campus have had in the past, and it's really one of our big reasons for putting together this Greek Week."
Phi Mu Alpha Sinfonia, an all-male fraternity; Sigma Alpha Iota, an all-female fraternity; and Kappa Gamma Psi and Mu Phi Epsilon, both coeducational fraternities, are officially recognized and housed in the Terraces. The college also has a professional management fraternity, Sigma Iota Epsilon. These groups are academically and artistically driven.
The college used to allow social service fraternities on campus, but over time, many lost college sponsorship and were forced to leave campus.
Brian McAree, vice president of Student
Affairs and Campus Life, said the college stopped recognizing social fraternities because of disciplinary actions throughout the years.
One incident that spurred changes was the death of a freshman pledge in 1980, which led to a re-examination of Greek policy on campus and the fraternity leaving the college, McAree said.
Today, the Student Organization Guidebook states that the college "does not currently register social fraternities and sororities." This resulted from a 1993 Faculty Council decision to overhaul the Greek life policy, McAree said. The group's decisions mandated that all fraternities that did not comply with the revised guidelines would no longer be recognized by the college.
McAree said there are three reasons for the changes: a "lack of interest;" a desire to "support but not expand" the Greek system; and limited monetary and staff resources.
Still, Greek life plays a valuable role in the lives of those who participate.
A few fraternities not recognized by the college function today as social service fraternities and sororities off campus, including Phi Kappa Sigma and Gamma Delta Pi.
GDP is a local social service sorority. In Ithaca, it works with the local SPCA, Relay for Life and Longview among others.
GDP was founded on the college campus in 1965 and was housed in the Terraces until 1992, when it disassociated itself from the college amid allegations of violating college guidelines. The sorority, like the on-campus fraternities, attempts to dispel the "Animal House"
notion, though the sorority does allow drinking, said GDP member sophomore Hunter Zager.
"You don't get any of the pressure at all," Zager said. "It may be like that somewhere else. But with Gamma Delta Pi, there is no pressure whatsoever."
GDP has also been hosting rush events in recent weeks, including a "Sex and the City and Cosmos" night and mixers with Cornell fraternities. According to signs put up by GDP, "drinking is optional for all events" and "safe rides to and from all events will be provided."
Zager said pledges and members must sign contracts acknowledging GDP does not condone hazing.
Russell Martin, assistant director of the Center for Student Leadership and Involvement, said Ithaca College's fraternities do not fit the typical idea of a fraternity.
"When people say Greek life at Ithaca College, they mean something else than at other institutions," Martin said.
Like the off-campus fraternities, the academic fraternities put an emphasis on helping the community. But SAI member Shannon Burns said their social service is often tied to the fraternity's professional focus.
"There's one main goal for the four … fraternities and that is music and the performing arts, and expressing it to the world and to the community," Burns said.
PMAS is responsible for arranging the campus-wide Intergenerational Chorus, which sings with residents of Longview. SAI holds instrument and music drives to help bring music to the less fortunate.
Whether on campus or off, Burns said being in a fraternity benefits not only the member, but also the whole community.
"[The fraternity] made me more motivated and driven towards my goals," Burns said. "[But] the goal of most fraternities is not only how I benefit, but how we benefit and how others benefit."