Last week, Ithaca College Dining Services announced the creation of an unlimited meal plan and a $50 Bonus Bucks increase to the 10- and 14-meal plans for the 2007–08 school year.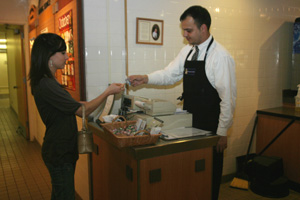 Jeff Scott, manager of Dining Services, said the changes come as part of a continual effort to improve the quality of services offered at the college. In December, the Student Government Association's Food Service Advisory Committee sponsored an open forum for students to voice their concerns with dining hall services. Scott said the forum feedback was taken into consideration when deciding what changes should be made.
"This would be a result of an ongoing effort of communications and discussions between myself, Dining Services managers and the food advisory committee for a couple of years," Scott said.
Dining Services changes also include eliminating meal periods, allowing students to use their meals at any time during the day. Previously, if a student ate at 11 a.m. during the beginning of the lunch period, they would not be able to eat again until the dinner period began at 5 p.m., Scott said.
A new Carte Blanche option, with unlimited meals, will replace the existing 20-meal plan. The changes also include the addition of 50 extra Bonus Bucks to each plan, with the exception of the seven-meal plan, which can be used to purchase food on campus tax-free. Bonus Bucks totals for each plan next year will be $100 for the seven-meal plan, $270 for the 10-meal plan, $180 for the 14-meal plan and $100 for Carte Blanche.
Sophomore Brendan McCarthy said that last year he had the 20-meal plan and the additional Bonus Bucks would have been useful.
"It seems like a lot, but a full meal at La Vincita is $7 or $8, so you could only get six or so meals for your Bonus Bucks," he said. "[The $50] went fast."
The changes will be funded by a 4.02 percent increase in the price of all meal plans, said Carl Sgrecci, vice president of finance and administration. President Peggy R. Williams announced the increase as part of a letter sent to parents last week detailing the increases in tuition, room and board prices for the 2007–08 year.
The Carte Blanche, 14- and 10-meal plans with Bonus Bucks will now cost $5,124, an increase of $198. The 10-meal plan without Bonus Bucks will cost $4,478, an increase of $180. The 7-meal plan with Bonus Bucks will cost $2,072, an increase of $80.
Additional changes to Dining Services programs and options will be announced at a later date, Scott said.
"We do have some very exciting programs that we're working on," Scott said. "We're focusing on really just improving our service and quality."