Ithaca College has raised $99.7 million toward its $115 million Capital Campaign goal, according to an announcement made by President Peggy R. Williams at the faculty and staff campaign kickoff Tuesday in Emerson Suites.
The college's new total, which includes a $4 million challenge grant from Atlantic Philanthropies, is a $3.1 million increase from the $96.6 million in contributions announced at the Capital Campaign kickoff Oct. 12, and nearly 87 percent of the college's total goal.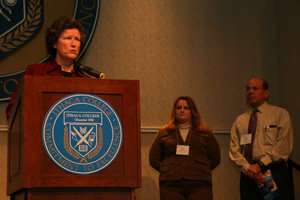 Shelley Semmler, vice president of institutional advancement, declined to release individual totals for the six major projects of the campaign, due in part to a donation waiting to be classified as a personal or corporate gift, she said. The college hopes to match initial goals, including $17 million for the new School of Business and $20 million for the Athletics and Events Center, set at the October kickoff.
But Semmler said it is possible to meet the $115 million goal and still fall short of individual projects.
"You have to project what people are going to give and … where they're going to give to," she said. "The campaign can be a total success, but you want to make sure you meet the goals for each objective."
Carl Sgrecci, vice president of finance and administration, said the new projected cost for the School of Business is $19 million — $2 million more than the projection in October. Three different groups are still calculating cost estimates for the Athletic and Events Center, Sgrecci said, so projections for final costs have not been determined.
Sgrecci said minimally, the college will build a base structure for the center that includes an indoor track and playing field, a lighted outdoor all-weather turf field and appropriate parking facilities. Additional options for the center, including an aquatic area, indoor basketball, volleyball and tennis courts and a rowing center, will be built only if funds are available.
"[The Capital Campaign goal was] estimating what might be a realistic goal for us to receive external funding for," Sgrecci said. "But even the base facility will be much more than that. It's not likely to be able to raise money to cover it all."
Sgrecci said the college has good borrowing capacity and a pool of savings it can use to cover any differences between projected costs and campaign contributions.
To meet the December 2007 campaign deadline, the college will have to raise approximately $1.53 million each month for the remainder of the year. Williams said the college's energies remain focused on finishing in December, but there is no penalty for extending the campaign.
"If we weren't finished, we could extend it early into next year, but we don't really want to go much further than that," she said.
The college has kicked off capital campaign events in nine cities since November, including New York City on Feb. 12 and the faculty kickoff in Emerson Suites this week.
At the kickoff, the faculty and staff campaign committee announced the creation of a $14,475 scholarship endowment. The committee will award the scholarship for the first time next spring, and annually thereafter, to students with strong academic profiles and commitment to the community.
The committee, chaired by Deb Mohlenhoff, coordinator of community service and leadership development, and Arno Selco, professor in the Department of Theatre Arts, was created to unify employee commitment to institutional growth, Mohlenhoff said.
On Tuesday, Mohlenhoff said she, Selco and the other 14 members of the committee had pledged to the endowment. They hoped to achieve a 60 percent participation rate from faculty and staff across campus.
"It's a tangible statistic that demonstrates to alum[ni] and potential donors that this truly is a campus-wide initiative that has full institutional support," she said.
Mohlenhoff said nearly 75 percent of the initial endowment came from Craig Evans '84, associate vice president of institutional advancement, who contributed $10,000 to the fund.
Evans said he would not have been able to attend if he didn't receive scholarships, and donating is a small way to give back.
"I feel this effort is so important for the faculty and staff," Evans said. "I want for it to be successful and the way to do that is to really be public and encourage others to reach out."
The college will hold campaign events in four more cities this month, Semmler said, and will continue to reach out to alumni across the country throughout the year. Semmler said a challenge while moving forward is compensating for a missing history with many of the college's alumni.
"We have not gone to our alumni for support [and] we knew this was a strategy we couldn't continue," she said. "[Now we're] doing it in a way that doesn't alienate people so [they] get really comfortable about philanthropy."