Before freshman Kyle Kelley came to Ithaca College, he attended Catholic Mass every Sunday in his hometown of South Burlington, Vt. But after going to a few services at Muller Chapel in the beginning of fall semester, he didn't return until the start of Lent two weeks ago.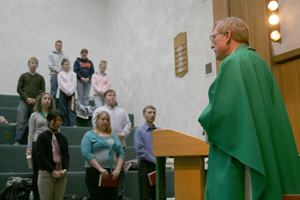 "I'm pretty religious, but I don't see going to church as a necessity to being religious," Kelley said. "I think it's about prioritizing. I mean, if I had the choice between finishing a huge paper and going to Mass, I'm going to finish the paper."
Like Kelley, more college students are choosing to practice their faith in nontraditional ways, leading to declining attendance at some on-campus religious services.
According to a 2006 study by the Barna Group, an evangelical research and advocacy organization, only 20 percent of students in their twenties kept the same strong spiritual activity as they had in high school.
The history of religious life on campus extends beyond Muller Chapel's establishment in 1976, according to Catholic Chaplain Mary Humenay. She said services have been organized on campus for more than 50 years, when priests from surrounding churches would visit campus and engage
students in worship.
Humenay said the transition to a new generation of college students contributes to the dropping attendance rate — down from 250 students two years ago to about 100 — at Catholic services on campus.
"[Students] get very busy," Humenay said. "They're no longer being encouraged by their parents … they list themselves as Catholic but it's really just a name."
Nicole Eversley-Bradwell, senior assistant director for admission, said applications to the college do not include questions about religious affiliation and have not for several years.
Michael Faber, Jewish chaplain and this year's chapel director, has organized Jewish services at the chapel for more than 25 years. Faber said 20 to 35 students attend Jewish services regularly, but more attend at the beginning of the year than at the end. While the exact cause of the decline in attendance is uncertain, he said multiple distractions in today's highly secularized society could be to blame for the waning attendance rate.
"Historically, we don't get exactly overwhelming crowds of people … at the end of the week," Faber said. "Most people are either taking naps or at happy hour, or getting ready to go out for the evening."
While he tries to organize religious services on major holidays like Yom Kippur and Rosh Hashana, Faber said for some holidays, he doesn't bother trying to organize services because he knows students won't attend.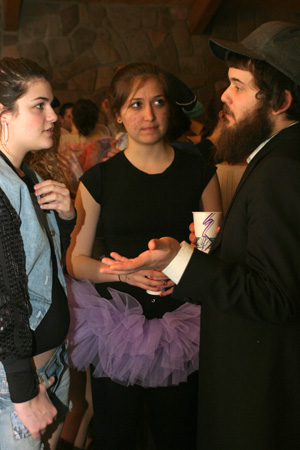 "We live in a society where the emphasis is placed on the experience of the individual, not on the experience of … feeling like you're a part of a community," Faber said. "Your generation of students, you're a whole different animal … there are some characteristics about your generation that are really a radical departure from previous generations of students."
Faber said modern society and today's students are more suspicious and even antagonistic of religious life. Though students' differing backgrounds and identities present a challenge to on-campus religious services, he said students still come together when it really matters.
Meredith Ellis, the college's Protestant chaplain, said student attendance at services rose from about 15 to 30 students when she arrived on campus in 2005. This semester, attendance at services dropped into the teens, but Ellis said it might be because of the time of year.
Each semester, at least a few student members of the Protestant community work or volunteer at services downtown as musicians or Sunday school teachers and are unable to attend Sunday morning Liturgy in Muller Chapel, Ellis said.
Senior Nuha Abdurahman said she attends Muslim services every Friday at Muller Chapel, along with four other students and two professors. Abdurahman said she is pleased Muslim services are made available, especially since the college has such a small Islamic community.
"I'm glad that they still have the service and make the time for us to be able to practice," Abdurahman said. "In terms of attendance, it's very low, but at least it's consistent … it's something that we can rely on … . It's better than nothing at all."
Abdurahman said she knows other Muslim students on campus choose not to attend services for personal reasons.
Sophomore Collin McDermott has consistently attended Ithaca Community Church, a section of the Protestant community, since coming to the college, and delivered his first sermon in December. While he said he prefers the services in his hometown, he still enjoys attending on-campus services at 5 p.m. on Sundays.
"I've been going to church since I was about 8 years old. It's much different coming from there to here," he said. "You come to a new place where everyone has their own different opinions because each person that comes to church has their own views of the Bible."
McDermott plays the piano for the church services and is also a board member for the Amani Gospel Singers, the college's gospel choir. McDermott said the singers perform around twice a month and are an important part of services.
McDermott estimated the student attendance rate for Ithaca Community Church ranges from 20 to 30 students every week.
"It's a work in progress. We're still trying to build and be an organization … we're small, but we're working to try to get things in order," McDermott said. "More people are coming now, but it's hard because people usually wait until Sunday to do all of their work."
Sophomore Joyeta Basu, a practicing Hindu, said a lack of diverse religious services at the college could be discouraging others from practicing their religion.
"I wish they had some sort of acknowledgement for my religion," Basu said. "I guess it would be not cost effective to have a pundit and a whole temple for the 10 Hindu students on campus, but I wish there was something in Ithaca for me to go to."
Despite the consistent widening of the college's generation-religion gap, some students still participate frequently in on-campus religious life. Freshman Jeff Tatanus said he attends Catholic services nearly every week.
"I just was raised Catholic, it's how I identify myself," Tatanus said. "I'd say even for a lot of the Catholics who attend Mass, for a large number of them that hour a week is the only religious thing that takes place in their college lives."