Lounging in his pajamas and hanging out with friends on a Sunday afternoon in his dorm room, freshman Rob Logan decides to turn on some music. He sits down at his computer, double clicks the Ruckus Player icon on the desktop and suddenly the room is filled with the electronic sounds of Basement Jaxx.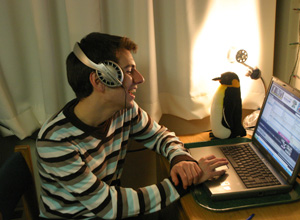 "I've downloaded over 800 songs from artists such as Fischerspooner, Beck and Daft Punk," Logan said. "The best part of all is that it is free."
Ruckus is a free, legal music downloading service that has recently become available at Ithaca College. More than 2.5 million tracks of music are available for download, as well as television shows, films and music videos. Users select media files they would like to download from the Ruckus Web site (www.ruckus.com) and then play the files in the separate Ruckus Player program.
Chris Lawson, director of corporate development for Ruckus, said that as of Jan. 22, the downloading service is available to all college students with a valid school e-mail address. When the service first launched in 2004, it was only available to Alfred State, Bentley College and Northern Illinois University, Lawson said.
To ensure that all songs are being downloaded only by valid Ruckus users, the company uses Digital Rights Management (DRM), protecting songs by preventing them from transferring out of the Ruckus site. Because of this protection, downloaded songs cannot be put onto a CD or transferred to an iPod.
Apogee CEO Chuck Brady said songs downloaded from Ruckus won't transfer to iPods because Apple only made its DRM compatible with iTunes.
A common complaint about the service comes from Mac users. Freshman Liz Kranz owns a Mac and was disappointed to learn the songs would not download onto her computer.
"The freshman Park students this year are required to use Macs," Kranz said. "Not getting the free service is a waste to everyone who owns a Mac."
Lawson said Ruckus can be run on Macs but only with newer operating systems that are able to run Windows applications.
"For older Macs, there are software applications that can also run Windows software like Ruckus," Lawson said. "The Ruckus service [itself] is Web-based, so anyone can browse our library of 2.7 million songs."
Freshman Cheri Berger said she feels Ruckus is unnecessary since the licenses on the downloaded tracks prevent her from transferring songs to her iPod or burning them to a CD.
"I downloaded six songs and after trying unsuccessfully to put them onto a CD, I shut the program," Berger said.
But even amid the many complaints some students have about the program, Ruckus has managed to maintain a solid fan base on campus.
Freshman Matt Worhach said he has been using the program since he first heard about it in a campus-wide e-mail last month. He owns a Creative Zen mp3 player, which accepts the encrypted Windows Media formatted files that Ruckus songs are downloaded in. He said his only complaint is that the service's music selection is still too limited.
"I am a little upset that, so far, there are not a lot of more well-known artists on Ruckus or a lot from earlier years," Worhach said.
Freshman Corey Piren said she likes the speed at which Ruckus songs download, rather than the long wait associated with other file-sharing programs like Limewire. And since she does not own an iPod, she doesn't feel as though she's missing out on the portable experience.
"I mostly listen to the songs in my room or if I am going to the library to study," Piren said. "I download a lot of alternative rock and I have been on a Prince and Madonna kick since the Super Bowl."
Lawson said 22.7 million songs and more than 23 million television shows, films and music video files have been downloaded through Ruckus by college students nationwide during the past three years.
"Now that Ruckus is available to all students, it is exciting to see users telling their friends at other schools nationwide about the service," Lawson said. "We encourage users to invite their friends so they can begin sharing music."