Junior Jamie Primavera's roommate follows her everywhere. She sits next to her during class, is always nearby during meals and lies at the foot of her bed when she sleeps.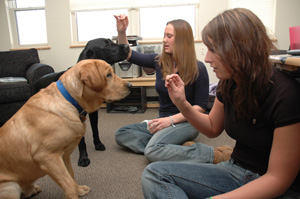 Still, Primavera said, the 10-month-old black lab, Snyder, is a welcome distraction.
"Even if you only leave them for 15 minutes, they're just as excited to see you as if it had been three hours," she said. "It's just such a great feeling."
Primavera is raising Snyder to be a guide dog through the program Guiding Eyes for the Blind, a training school for guide dogs and their owners based in Yorktown Heights, N.Y. Seven students at Ithaca College are raising dogs through the program.
"It's really eye opening," Primavera said. "If you raise one dog that does make the program, you change someone's life forever."
Primavera first became interested in the program during her freshman year, when one of the students in her dorm was raising a dog.
"One of the RAs in our building held a floor program that explained how she got involved," she said. "I went on and convinced my parents to let me get involved in the program."
Becky Barnes, manager of consumer outreach and graduate support at Guiding Eyes for the Blind, and also a guide dog user, said the puppy-raising process is a commitment of at least 14 to 16 months, during which the trainers take the dogs into their homes.
"They work with [the dogs] on a structured program," Barnes said. "They lay the foundation that the guiding is on, the socialization."
Zach Newswanger, assistant director of Residential Life, said once students apply with Guiding Eyes for the Blind, they request to have a dog in their residence hall.
"A meeting is set up and we review the application," Newswanger said. "If they live in an apartment or with a roommate, they need to communicate that with them and with their RD, their RA and the residents that live on the floor or in the building."
Freshman Natalie Brandt is raising Wendy, a yellow lab, with her roommate, freshman Beth Davies. They applied for a guide dog last October and received Wendy in February. Brandt said the training classes teach owners about the basic commands, but also about guiding-eye policies and techniques.
"You have to teach the dogs sit and lie down, but you also have to teach the puppies impulse control," she said. "[It's important] so that when you're walking on campus, the dogs don't jump on every person they see, which is what our puppy does right now because she's so young."
Because Wendy is in the first stages of training, Brandt and Davies are not able to take her to classes yet.
"Our puppy has to know the difference between when she's training and when she's playing, and right now she doesn't have that distinction because every time she sees a person she knows it's going to pet her," Brandt said. "It will be easier when our puppy gets older, but because she's so young and really cute, everyone wants to go touch her."
This step in the training process is extremely effective in a campus environment, Barnes said.
"It's nice when they can do it on a college campus because they get everything, lots of people, and learning how to be still when someone is in class," she said.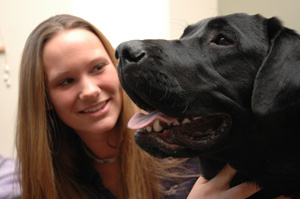 Primavera, who has had Snyder for more than nine months, said the first few months with the puppy are demanding.
"He comes with me to every one of my classes, and in the beginning it was difficult because he was really restless, but eventually he started adapting to my schedule," Primavera said. "He just falls asleep next to my chair and stays asleep for the entire class."
Edward Wallace, assistant professor of health promotion and physical education and one of Primavera's professors, said Snyder does not disrupt his Psychoactive Drugs class.
"It comes in and just lays there," Wallace said. "Most of the time I don't even notice that the dog is here."
Primavera said she attends training classes with her dog twice a month. When the puppy-raising process is over, the dogs are tested and put through more training during which they learn specific commands and tasks. They are then assigned to an owner.
Newswanger said he talks to prospective student trainers to ensure they have put thought into the decision and have time to commit to the program.
"The program has stuff built into it where [students] can just dog-sit if they realize this is a lot more work than they want to do," Newswanger said.
The inconvenience of having the responsibility is outweighed by the positive impact dogs have on owners' lives, Primavera said.
"Guiding Eyes has made my college experience what it is," Primavera said. "So many people come up to me and want to pet my dog because they miss their dogs so much. … It's a total de-stressor. You basically work the dogs into your daily schedule."
Barnes, who got her first guide dog in 1995, said it was a life-changing experience because it gave her a new way to travel independently.
"I need to know how to get where I'm going, but my guide dog is the one who keeps me safe while I'm getting there," Barnes said. "When [people] get their first guide dog, their response is always the same. You have a feeling of total freedom. You can walk with your back straight and your head up."