For the next five weeks, The Ithacan will feature graduating seniors who have made significant contributions to the college and community.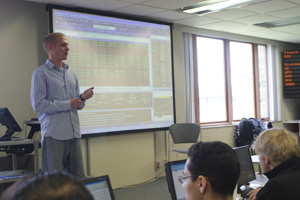 In a few months, Adrian Guenther will launch into a Wall Street workweek. From 6:30 a.m. to 8:30 p.m., five days a week, he will sit in front of a computer, analyzing stock portfolios that can gain or lose hundreds of thousands of dollars a day.
Throw in a half day on Sunday and a few late nights, and he could soon be averaging an 80-hour workweek. But he's actually looking forward to it.
"I was always interested in the market I guess," he said. "I just kind of liked the fact that you could make money without necessarily working."
Guenther, a senior business administration major from Portsmouth, R.I., said he realized his future job would require actual work after taking classes at the college and interning at BlackRock, an asset management company, last summer.
"It is a lot of work if you want to make money in the market," he said. "Back in high school I didn't really realize that. I always liked it because I thought it was kind of like a game."
During his time at the college, Guenther has distinguished himself as one of the most driven students in the business school, said Susan Engelkemeyer, dean of the School of Business. He is a member of Sigma Iota Epsilon, a national honorary and professional management fraternity; Beta Gamma Sigma, a business honor society; and the Oracle Society, an organization recognizing the top
5 percent of freshmen at the end of each semester. Engelkemeyer said he also works at the school's student services window.
"He's bright, driven, articulate, mature,"
Engelkemeyer said. "[At the window], he's helping other students think about scheduling, what concentrations they may want to consider, what they want to do while they're here."
Last year, Guenther helped create the Investment Club, an on-campus organization whose members invest faculty, student and alumni money in the stock market. This year, he is one of the club's co-presidents.
"We first raised about $10,000 when we started the club," he said. "And now, over the past two years, there's been more investments."
The club now manages more than $23,000, he said.
Abraham Mulugetta, professor of finance and international business and the club's adviser, said Guenther spends nearly all of his time with the organization.
"That last row chair, it is practically his," he said, pointing to the back row in the business school's trading room.
Alka Bramhandkar, associate professor of finance and international business, said she worried about this back row preference at first.
"I worry about [students] who sit in the last few rows because I think they're not paying attention," she said. "Pretty soon I realized that he was really, really grasping some of the major concepts that were being taught."
Bramhandkar offered Guenther a job as a teaching assistant and said she frequently asks him to assist in her research.
"He actually thought about [the research]," she said. "He would ask questions about why we were looking at [a particular issue] or why we weren't looking at [another factor]."
It is his inquisitive nature that distinguishes Guenther from other students, said Jeff Lippitt, associate professor of accounting.
"He is genuinely a scholar," Lippitt said. "It's fun to have somebody that's pushing back and thinking and keeping me on my toes."
Senior Nick Haelcher, a friend of Guenther's and chief strategist of the Investment Club, said Guenther is an active participant in his classes.
"He's always the kid that wants to know just a little bit more," he said. "He'll ask the questions that the textbook doesn't quite cover, sometimes stumping some teachers."
Mulugetta said Guenther's curiosity is rare among his students.
"He strives to acquire knowledge, but not in a selfish way," he said. "He wants to bring others to participate with him and be curious."
After graduation, Guenther will return to New York City to work at BlackRock, the same firm he interned at last summer.
"I was one of about a hundred interns …," he said. "By the time I left I already had a job offer, which was nice for senior year."
At the firm, Guenther will analyze portfolios and assess their risk management.
Haelcher, who will also work at BlackRock, said while the workload will "eat away at [their] energy levels," he still believes their passion for the market will make the job worthwhile.
"As sad as it sounds, we hit the bar and we talk about what happened on the market that day," he said. "We really love what we do."
Mulugetta said he expects Guenther to be successful after graduation.
"Believe me, he is going to be one of the significant leaders in the financial market," he said.