First-year experiences, diversity, and international and study abroad programs were all topics discussed by David Gordon, one of three candidates for provost, as he met this week with students, faculty and staff.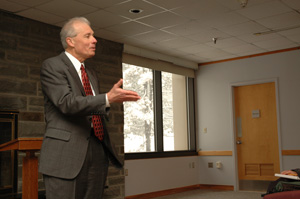 Gordon, the first of the candidates to visit campus, is the associate provost for personnel and diversity at SUNY–Geneseo. While on campus, Gordon talked at four open sessions, in addition to meeting separately with the Faculty Council executive committee and the provost search committee.
The search committee launched its search in February, one month after Provost Peter Bardaglio announced his plans to take a sabbatical and resign in May. Jim Malek, provost of the college from 1998–2001, is serving as interim provost.
One student attended the open session held for students Monday, and nearly a dozen faculty attended a faculty session later that afternoon. Twenty-five faculty and staff and two students attended Tuesday's meeting.
At Monday's meeting, Gordon said he hopes his open-door policy would make students feel comfortable talking to him. He also said he would like to meet with student representatives on a regular basis.
"It's important for the provost to remain in contact with the students," he said at the session.
At Tuesday's faculty session, Gordon, originally from Pittsford, N.Y., said he hoped to improve the integration of study abroad experiences into students' lives on campus. He also said the college's focus on the first-year experience is
important in creating a cohesive campus-wide community. Gordon said he hoped to strengthen these programs. "Requiring students to have a common experience … when they come to the campus helps create more of a collective community," he said.
Gossa Tsegaye, associate professor of television and radio and chair of the Faculty Council, said he and three other faculty members on the Faculty Council executive committee met with Gordon on Monday. He declined to comment on Gordon's strengths or weaknesses, but said there was "good give and take" of conversation during Gordon's interview.
Susan Bailey, dean of SUNY–Geneseo, said Gordon's strength is his logical approach to problems.
"He doesn't get upset, and he looks at many different options and really listens to people's suggestions," she said.
Gordon, who has nearly 10 years of experience in SUNY–Geneseo's provost office, has initiated many programs at the institution, including the American Democracy Project, which encourages awareness and discussion about current events. He also started a monthly wine and cheese night, a popular way to create discussions among faculty and students, he said.
Some programs he would like to start at the college include informal discussions about topics in higher education, and themed conferences for students and faculty, he said.
Junior Craig Rosenberg, a business major who attended an open session Tuesday, said he thinks Gordon would do well at the college.
"I was impressed … with his answers to the questions and ideas for the college," Rosenberg said.
Tsegaye said he applauded the timeliness of bringing the candidates to campus and trying to meet the goal of naming a provost by the fall.
"This has to be a collective effort by all," he said. "Hopefully through this process we'll select the right candidate. It might not be the perfect candidate, but hopefully it will be the right candidate."
The next finalist, Kathleen Rountree, associate provost for undergraduate education for UNC at Greensboro, will visit campus Monday and Tuesday.
Mark Gromko, interim provost and vice president for academic affairs for Bowling Green State University, will be the final candidate to speak April 30 and May 1.