Growing up with two brothers, senior Joanna Meinhart didn't play much with dolls like Barbies. Instead, she built treehouses and played soccer.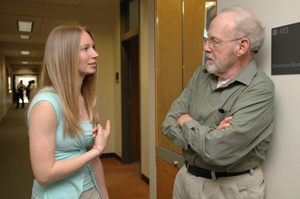 "My grandma, I'll never forget it … she [said], you know Joanna, I'm so proud that the most athletic person in the family is a woman," Meinhart said. "She was talking about me."
At Upper Moreland High School in Hatboro, Pa., Meinhart played a sport every season, including field hockey — her favorite — basketball and soccer. She picked up her athletic ability from her father, who she said also played three sports in high school.
While skiing at Greek Peek for her birthday, Meinhart and her father saw a group of 70- to 80-year-olds taking a break from skiing and having their lunch on the slope.
"That's my inspiration,'" she said. "I hope I'm still skiing when I'm that old."
As a gerontology major, Meinhart finds most of her inspiration in older people, especially from her four grandparents — all still living. Gerontology is the study of the social, psychological and biological aspects of aging.
Meinhart's study of aging began at Kent State University in Ohio, where she played Division-I field hockey and eventually majored in gerontology. After a semester, she transferred to Ithaca College because she wasn't academically challenged at Kent State, she said.
At Ithaca, Meinhart became immediately involved. She had hoped to meet other transfer students right away through social activities. It didn't happen. Along with senior Sarah Naylor and Katie Weber '06, she started the Ithaca College Transfer Society.
"It's mainly just to really meet other transfer students and have that support group," Meinhart said. "[It's to] do fun things with them and to get familiar with the campus … the people on campus and the community."
Meinhart is also the vice president for the Aging and Gerontology Educational Society, as well as a member of the honor societies Phi Kappa Phi and Sigma Phi Omega. She is a student worker in the Gerontology Institute, an aging studies research center for students and faculty, and a member of the Culinary Arts Club.
In the Center for Health Sciences, Meinhart organized an art exhibit called "Creativity is Ageless." Featuring a watercolor class from Lifelong, the senior center in Ithaca, the exhibit, on display until July 31, is in memory of Mary Jo Larsen, a former Lifelong teacher.
Pamela Mayberry, associate director of the Department of Gerontology, first met Meinhart when she came to visit the college during the summer before her first year. Mayberry said Meinhart has excelled in her studies while taking the initiative to start activities and take active roles in each.
"She's one of the students that has really demonstrated … leadership and … commitment to her field … but also shows a really broad interest in activities at Ithaca College," Mayberry said.
Junior Kevin Bussolini met Meinhart two years ago at a swing dance event on campus. He said her stamina regarding workload is a little bit more than most people's. And she manages to find time for and happiness in the little things in life, like swing dancing and pizza.
"She just works as hard as she wants and as hard as she needs and then she calls me randomly for Gino's Pizza because that's what she needs now," Bussolini said.
As for the future, Meinhart is waiting to hear back about jobs in gerontology, recreation and social service, but she is thinking about graduate school and even becoming a college professor.
Mayberry said she could tell from the start that aging was the direction Meinhart wanted to go.
"You know you just get the sense this woman will go far," Mayberry said. "Just as she goes out and creates opportunities at Ithaca College and makes the most of her surroundings, I think she'll do the same thing in the field of aging."