Do Anything Nice (D.A.N.) will hold a benefit concert and silent auction Sunday to raise awareness about multiple sclerosis (MS), an autoimmune, degenerative disease.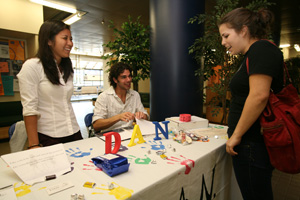 The concert will take place from 2 to 5 p.m. in IC Square. Junior Ryan Salisbury, president of D.A.N., said all proceeds will benefit the Accelerated Cure Project, a nonprofit MS research organization.
The Boston-based organization, which was launched in 2001, has several affiliate groups in the New England region. Patricia Phelps, a local staff volunteer for the Accelerated Cure Project and an administrative assistant in the School of Music, said the disease is not as well known as other illnesses. Phelps' daughter, Amy '99, was diagnosed with multiple sclerosis in June 2003.
"MS is a much wider-spread disease that people don't know a whole lot about until it strikes someone in their family," Phelps said.
According to the Accelerated Cure Project Web site, MS affects 400,000 people in the United States and close to two million people worldwide. Jessica Taves Valdez, assistant professor of clinical therapy, said the disease progresses at different rates with each patient, which makes it unpredictable even for medical experts.
Phelps said MS is a very mysterious disease and is often described as an "electrical cord losing its insulation."
"MS will not kill you, it just really wrecks your life," she said. "You never know
when you wake up in the morning if you'll feel OK."
Valdez said the physical disabilities and deteriorating memory problems associated with MS makes it a very painful disease to live with.
Salisbury said he thought of holding a benefit concert after talking to Phelps last summer about her daughter's condition. If all the auction items are sold for their minimum price, the club will raise at least $8,000 for the Accelerated Cure Project.
"We are really hoping to make $10,000," said Salisbury.
At the benefit, students will be able to enjoy free refreshments and listen to music groups such as Premium Blend, Ithacappella, the Evan D. Williams Folk Band and Phi Mu Alpha, an Ithaca College music fraternity.
The silent auction will feature gift certificates for hotels and local restaurants as well as paintings from local artists. Educational pamphlets will also be available for students to learn more about the disease. Half of the proceeds from a 50/50 raffle will go toward the Accelerated Cure Project and the other half will go toward the prize money.
Mark Hasman, vice president of Ithacappella, said the group loves performing
at campus events that support both a college club and a good cause.
"It's really a great opportunity to help the cause [of multiple sclerosis]," he said. "We just want to help people out."
D.A.N., formed two years ago by junior Michael Unis, organizes acts of kindness on campus. The group tries to create a more positive campus community, even in the face of negative situations, Salisbury said.
"What if there was a D.A.N. club at Virginia Tech?" Salisbury said. "Maybe things would have been different."
Unis started a similar group at his high school in New Jersey, which he said was
very successful.
"I got together with a group of friends who wanted to do nice things and opened up a chapter up there," he said. "From there the journeys just continued."
Salisbury said last year, D.A.N. set up a table at the Campus Center and its members hugged people who passed by. He said the idea was to brighten someone's day.
"Some people would come back to get another hug," he said. "The first day we had something like 500 hugs."
Sophomore Reina Argueza, vice president of the club, said D.A.N. has 8 to 10 core members but expanding their membership would help the group flourish.
"We're still a young group, so it's really hard to keep a big group together," she said.
Salisbury also said the group's size doesn't lessen its impact on the campus and the
community but that member recruitment is a priority this year.
"People always say, 'Well, I don't need to be in a group to be kind,'" Salisbury said. "But when you get a whole bunch of people to do kind things, many acts of kindness will make a large difference."
The club has held several other events, but the benefit concert is the first big event the group has organized.
"Much of what we do we are creating ourselves," Salisbury said. "We are making new grounds, especially with an idea such as [the benefit concert]."