To celebrate September's Latino Heritage Month, Ithaca College will hold a series of events aimed to create an appreciation for Latin culture, said John Rawlins, assistant director of the Office of Multicultural Affairs.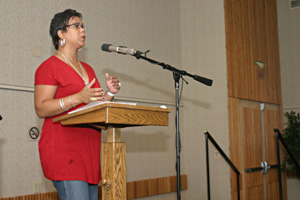 Rawlins said this year's Latino Heritage Month celebration will be less limited to specific topics than past celebrations in order to allow speakers more freedom to discuss what they are passionate about.
On Monday, the Office of Multicultural Affairs began its series with a presentation by Rosa Clemente, a black Puerto Rican grassroots organizer, journalist and activist.
Clemente spoke about her experiences as a journalist and said after reporting on the aftermath of Hurricane Katrina, many mainstream media anchors were praised for covering racial issues.
"It was pretty obvious what was going on," Clemente said. "Hurricane Katrina was all about race. You had no choice. How could you not report on it?"
Junior Cornell Woodson, Student Government Association's (SGA) vice president for student affairs, said Clemente's speech positively changed his feelings toward leadership.
"Just her being a Latino female with intellect and a tremendous mind was so great to see because it is something that one rarely sees or hears about with all the stereotypes we have today about females of color," said Woodson.
Rawlins said the presentation was meant to bring diversity to the campus.
"It's important for [the college] as an institution to have programs like these in place to engage our students in different cultures," he said.
Jonathan Ablard, assistant professor of history, will hold a discussion at 7 p.m. today in the first floor lounge of Terrace 11 about Mexican Independence. He will focus on the misconception that Cinco de Mayo is the Mexican Independence Day.
"When discussions about racial inequalities and class are focused on the United States, it can be pretty uncomfortable for a lot of students," he said. "It takes a certain courage on their part to talk about these certain issues."
Earlier in the month, the African Latino Society (ALS) held a showing of the film "Raising Victor Vargas."
Sophomore Patricia Rodriguez, public relations director for ALS, said there have been good turnouts and a diverse crowd at the events.
"What's most important is really not the quantity of people we get, but if we can get a diverse group of people to come to our events," she said.
The college will also collaborate with Cornell University for the Heritage Month celebrations.
Beginning at 7 p.m. Saturday in Emerson Suites, ALS will host Ritmo De La Noche, a night of music, dance and food. Cornell University's Latin fraternities and sororities will also participate.
Rawlins said the month of events will benefit the campus community.
"People sometimes live in this bubble, but when you go into the work world, you'll be immersed in so many cultures," he said. "This will be a time to allow people to think about and react to different ideas and cultures."