Paul Heckathorn's walk in Cass Park on Sunday will be more than a leisurely afternoon stroll.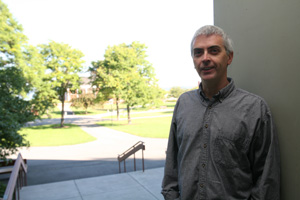 Heckathorn, an electronic resources assistant at the Ithaca College Library, is the honorary chair of Ithaca's first Walk to D'Feet ALS, which begins at 11 a.m. Saturday in Cass Park. Heckathorn will walk in memory of his wife, Carol Buckley, who died of amyotrophic lateral sclerosis (ALS), known as Lou Gehrig's Disease, in 2005.
According to the Amyotrophic Lateral Sclerosis Association (ALSA), ALS is a fatal neuromuscular disease that slowly and painfully paralyzes its sufferers. It usually starts in the extremities and moves inward until it becomes impossible to walk, speak, swallow or breathe. More than 30,000 people in the United States are living with, and will eventually die from, ALS.
Heckathorn has walked for ALS for the past three years in Buffalo, Rochester and Syracuse.
He said the event has always been a very supportive and positive experience.
"I'm mostly concerned with numbers and getting people out there," he said. "I think that we will be successful with the fundraising aspect but for me personally, that's not the issue."
According to Jeannine Huber, coordinator of the Upstate New York chapter of ALSA, Carol Buckley had a large group of friends in Ithaca that helped her and her husband cope with her diagnosis.
This same network of friends remained active after Buckley's death and helped bring an ALS walk to Ithaca.
"We already had this network of people that were interested in the cause and had lost someone to ALS," Huber said.
Walks in Buffalo and Syracuse have been ALSA's signature event for the past eight years. Based on the average turnouts, Huber said she is hoping for at least 200 walkers.
Huber said the Upstate New York chapter of ALSA serves more than 100 patients from Buffalo to Binghamton to improve their quality of life. The clinics lend patients resources as the disease progresses and provides information and support.
"We have a loan closet with durable equipment that has everything from power wheelchairs to modified spoons," Huber said.
ALSA has a Syracuse-based clinic where patients who have trouble traveling can meet with all of their doctors at once. Families and ALS sufferers can also use the organization's free group counseling, Huber said.
ALSA chapters across the country send money to the national office to be allotted for
research, Huber said.
"We have a research department with a team of scientists that determine which are the most promising research experiments and which we should fund," she said
A portion of the money raised from the walks in Ithaca and across the region are donated to the national ALS association, Huber said.
Heckathorn said he was happy to be able to give back to an organization he felt connected to.
"From the beginning, I think I've had a really close relationship with the Upstate New York chapter and have jumped in to help as needed," he said.
Buckley was a local performer and for many years led The Class Notes, a coed a cappella group at Cornell University. Shortly after her diagnosis, she became physically incapable of singing and performing. Still, she remained positive and kept her outgoing spirit.
"Carol became very concerned with raising awareness," Heckathorn said. "It was really important to her to just be out there in the public."
Heckathorn said the route for the walk will be easy and flat so that ALS patients who are in wheelchairs can participate.
"They don't have to sit on the sidelines," he said.
Elizabeth Begley, a professor of speech pathology at the college, is also walking this Saturday. She has helped ALS patients adjust to life with the disease by teaching them how to usespeaking devices.
"All of the clients I've worked with that have this condition have taught me more than I've taught them," she said.
Heckathorn said Ithaca is the perfect site for a walk because of its central location in Upstate New York.
"We've got a lot of really good things planned," he said. "It's going to be a good time for everybody. It's always bittersweet."