Inside Some Girls Boutique on Eddy Street, violet and peach walls tame the brighter, more colorful clothes hanging on the racks. Major and minor labels like Free People, Ben Sherman, Tulle and Baby Tiers dominate the store's collection, with no item appearing in greater quantity than three or four.
The clothes span a broad variety of women's fashions, from a black- and gray-checkered high-waist jumper by BB Dakota to a skintight neon yellow strapless American Apparel dress. Music of hipster taste — think Postal Service and Smashing Pumpkins — always plays from a nondescript set of iPod speakers.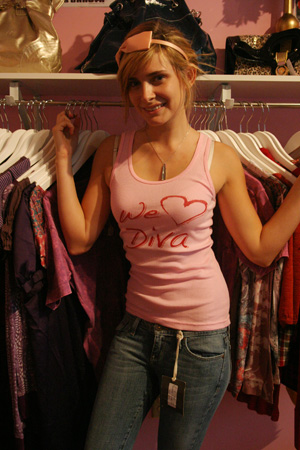 View a photo gallery of fashions from Some Girls Boutique. The first Some Girls Boutique was opened by Diva de Loayza in 2003 in Albany, N.Y. De Loayza's stock rose in the fashion world when her signature tank tops, featuring slogans like "Skinny Bitch" and "Frustrated," were spotted on big name celebrities across Hollywood beginning in 2000. The rapid success of the first small SoHo/Greenwich Village-inspired store allowed de Loayza to open new boutiques in neighboring Troy and Syracuse, with Ithaca joining the list last May.
De Loayza's vision of opening a chain of colorful, cozy boutiques was cut short in June, when she died at the age of 40 from injuries related to a bicycling accident in Albany.
The ownership of Some Girls is now in the hands of Diva's mother, Winifred.
Winifred describes her daughter as a "minor rock star" whose dedicated staff of young women still runs the Some Girls stores.
"She was a force of a nature," de Loayza said. "The fact that all of these young women have been able to step up and fulfill her vision is just outstanding."
General Manager Margaret Partyka rejoined Some Girls in August after two years working with Martha Stewart Home in New York City. Partyka was introduced to the business side of retail while working with Diva on her well-known fashion line, House of Bimbo.
"I know from working here that we all look to Diva for her energy," Partyka said. "To try to replace that is not possible, but I try to keep her as my role model."
A steady stream of girls have rotated in and out of the dressing rooms' zebra-patterned curtains since the store's opening. Ithaca College sophomore Meghan Roche is a big fan of the store's accessories, which include earrings and necklaces by Swedish designer By Bou. By Bou's simple designs have been a hit with celebrities like Cameron Diaz and Jessica Simpson.
"The jewelry is very eclectic, very funky," Roche said. "They have that feel of discovering something special from a vendor off the street."
Girls who like their necklaces chunkier and flashier can indulge in jewelry by Foxy, a designer who offers more custom designs in contrast to By Bou's minimalist look.
Fall fashions recently hit the shelves, with shoppers racing to snag pieces like an edgy satin-lined faux leopard three-quarter-length coat by Free People and a traditional blue cotton skirt with pink stitching by Zinc. While both the de Loayza family and Some Girls has suffered a terrible loss, business in the Ithaca boutique is booming.
"Ithaca definitely has impressed the figures," Partyka said. "We are hoping to see Ithaca as number one. It has proven itself in the shortest amount of time compared to the other stores."
The store's policy of not reordering sold-out items has struck a disappointing chord with some of its shoppers. Junior Clare Anderson, whose favorite piece in the store is a gray zip-up puffy sweatshirt by Free People, said she's had trouble finding items in her size.
"It's a completely hit or miss store," Anderson said. "They've got their good days, and they've got their bad, and I've come on both."
Some Girls employee Kim Anderson, a senior at Ithaca College, said the store's policy of not reordering their shipments fits into their appeal of exclusivity.
"Ithaca is not very big," Anderson said. "When you come in, the things you buy are really one of a kind."
Ithaca shoppers still have hope if their favorite pieces sell out locally, since Some Girls has three stores in the central New York area.
Anderson said Some Girls shoppers have reflected the store's overall style.
"The personality of an average Some Girls shopper is someone who is willing to try something new and daring," Anderson said. "Someone who has confidence in themselves and in their body."
Partyka said Some Girls hopes to expand further in the years to come. She said the wheels are in place for an ambitious 10-year, 100-store plan.
"The staff and employees have made it through, and we're all sticking by the amazing company and vision that Diva had,"
Partyka said. "We're really looking to build this clothing empire that was her dream."
For more information about Some Girls Boutique, visit www.somegirlsboutique.com.