Trumansburg resident Joan Abrams had a wonderful life — she had good friends, a loving husband and two daughters who would soon be attending college. At 51, she ate well and exercised regularly.
But the results of her yearly mammogram were devastating: Abrams had breast cancer. Suddenly, her life was turned upside down with visits to doctors and rounds of therapy.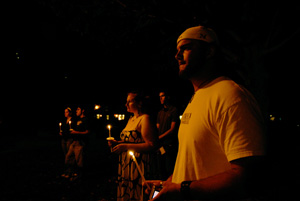 That was 21 years ago.
Last Saturday night, the Ithaca Breast Cancer Alliance (IBCA), a support organization for breast cancer victims and survivors, honored Abrams and others with its first candlelit vigil in DeWitt Park in downtown Ithaca.
Approximately 50 people attended the event, which began with a performance by Ithaca College's Hands of Praise Signing Choir and the lighting of vigil candles. Survivors and their families were then given the opportunity to speak about their own experiences with cancer.
The event served as a prelude to National Breast Cancer Awareness Month, which begins in October.
According to the American Cancer Society, there are 2.5 million breast cancer survivors in the United States. Locally, IBCA serves 400 women every year, mostly in Tompkins County, according to Shawn Galbreath, executive director of IBCA and a survivor.
Breast cancer survivor and IBCA board member Stephanie Vann says IBCA has been like a "second family" to her since she was diagnosed with breast cancer. Vann started chemotherapy treatment two years ago, but said she looked to IBCA for help the day she was diagnosed.
"I can never give back to them what they've given to me," Vann said.
Vann, whose mother died of breast cancer, said surviving the experience gives her hope for the future.
"I see the next generation [here]," she said. "There's such an incredible sense of community when you're affected by cancer in any way."
The association offers support for local residents dealing with breast cancer, including a weekly discussion group, free counseling and an education program that includes a 700-volume library of materials on breast cancer and related issues.
IBCA works with the Ithaca College branch of Colleges Against Cancer. Junior Daniel Wald, co-chair of Colleges Against Cancer, said the student organization aims to educate students through information and activities.
"A lot of college students believe they are invincible and cancer can't affect them, yet our peers are survivors — there are survivors at Ithaca College," he said.
According to the American Cancer Society, about 1 in 200 women between the ages of 11 and 29 were diagnosed with breast cancer from 2001 to 2003. The ACS also estimates nearly 13,000 women will be diagnosed with breast cancer in 2007 in New York state alone.
Ithaca resident Terry Taylor has been cancer free for 22 years but said she still remembers the day she was diagnosed.
"All I thought about was 'I want to see my family and my friends — that's all that matters to me right now,'" she said. "All these other things that had mattered in my life didn't seem to matter."
Her sister had been diagnosed four years earlier and is also alive today. Terry's daughter, Joy Taylor, had surgery just three days before the vigil and is now considered cancer free.
Women with family members who have had breast cancer are more likely to get it themselves, according to the ACS. The organization also reported breast cancer as the number one cause of cancer death in women worldwide and the second-leading cause of cancer death in American women after lung cancer.
In the future, Galbreath said she hopes survivors of other types of cancer will attend the vigil. She said IBCA plans to host this event again next year and hopes for an even larger turnout.
The organization also hopes for a sizeable crowd at its 14th annual walkathon and 5-kilometer run Oct. 13, which will raise money for breast cancer research.
Abrams said there was no IBCA when she was diagnosed, but now there is support for other people who face the disease.
"They're there for you," she said. "They're there for me. They're there for all women, all people, all cancers."