For a college student, the pursuit of cheap media is an ongoing struggle. With CDs and movie tickets about $10 each, it is hard to be hip on a Terrace Dining Hall paycheck.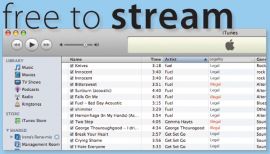 During the past few years, South Hill students have learned firsthand the risks of illegal downloading, via cease-and-desist warnings from the Recording Industry Association of America. Given the risks, it seems unless you are willing to shell out the cash for entertainment, your next Britney MP3 could land you in the courtroom.
There is still hope for the frugal media guru. But remember: the options listed below are not illegal, so don't get roped into anything in the process that could get you in trouble. We're not advocating breaking copyright rules — just capitalizing on those who do.
Movies
The key to watching free films online is taking advantage of streaming video. Though the Motion Picture Association of America stalks users who download films online, it is not illegal to simply stream a motion picture. The copyright responsibility lies in the hands of those posting the films. The MPAA occasionally targets the host sites, such as Google Video or YouTube, at which point the films are simply removed.
There are dozens of clearinghouses for streaming films on the internet, but a few stand out from the rest. A great site to start out with is Watch Movies (www.watch-movies.net), which hosts a gigantic number of links to films ranging from those just released in theaters to more classic fare. Also popular is Movie Forumz (www.movieforumz.com), in which users gather and submit links themselves.
Junior Delilah Rivera streamed last month's dance sequel "Step Up 2: The Streets" the weekend after it was released on the big screen.
"I liked the first 'Step Up' and I wanted to see the new one, but I didn't really have the time to go to the theater," Rivera said. "It ended up being really bad, so I am glad I didn't spend my money on it."
For films off of the beaten path, a unique Web site is Movies Found Online (www.moviesfoundonline.com). This page focuses on documentaries, concert films, old-time classics and cult cinema. The site relies on obscure fare whose copyrights may have lapsed or not have been pursued, and its variety is dense enough to offer something for everyone.
Music
Listening to free music online without consequence is easier than many think. One hot trend infiltrating residence halls is personalized Internet radio. Using advanced audio analysis, sites such as Pandora Radio (www.pandora.com) and Last.fm (www.lastfm.com) have revolutionized commercial-free Internet radio, specifically tailoring their services to the listener's taste. Pandora Radio encourages listeners to provide their favorite song or band and specially creates a radio station based on the selection. Last.fm works similarly, analyzing what the listener favors in their iTunes in order to make selections.
Junior Chris Braley-Miller uses sites like Last.fm to discover new music.
"It is very accurate in anticipating what music I might enjoy given what I already listen to," he said. "It definitely allows me to discover bands that otherwise I may never hear of."
One of the best bets for students who wish to download music is the college-endorsed Ruckus (www.ruckus.com). With a vast selection nearly comparable to iTunes, this site allows unlimited free downloads with a college e-mail address. Unfortunately, there are two drawbacks: the system is not compatible with Apple, and the files are locked WMA files.
If you are interested in downloading hot new tracks, several sites offer easy links to MP3s available on scores of music blogs. Sites such as Elbows (www.elbows.com) and The Hype Machine (www.hypem.com) allow visitors to scour the most popular blogs in the nation in search of their favorite songs. The linked entries often post songs for sampling purposes, and from there, you have the ability to download them and sample away.
Television
Much like film, watching TV online is best reserved for streaming realms. One fascinating project, which will hopefully inspire other networks, is a joint venture between Fox and NBC called Hulu (www.hulu.com). The site allows users to stream material from both networks' history, as well as shows from sister networks such as Bravo and Sundance.
For a much larger, yet hit-and-miss, selection of user-generated content, Alluc (www.alluc.org) links to thousands of television shows, as well as many films and documentaries. For nearly complete groupings of three of the most popular cartoons among coeds, try Simpsons 4 U (www.simpsons4u.blogspot.com), South Park Zone (www.southparkzone.com) and Family Guy Now (www.familyguynow.com). After all, streaming programming is a lot more affordable than pricey box sets.
Junior Andrew Berkowitz said he watches television online when he wants to catch up on episodes of "South Park" or sporting events.
"Watching stuff online is easy to access and I can watch it whenever I want," Berkowitz said. "It gives me more options in terms of what to watch and when to watch it."
A final television option which is not free, yet very affordable, is a device called a Slingbox. After a simple installation, you can hook this device up to your computer and stream your family's cable feed over your internet connection. Ultimately, it is a cheaper alternative to buying a TV set and worrying about a monthly bill. The best bet for a Slingbox is the Sling Media Slingbox AV, which retails for $129.99 (and often hovers under $100 on Amazon).