He's coaching her above the groove of a steady bass line, watching as her fingers struggle to hit the changing chords he calls out to her.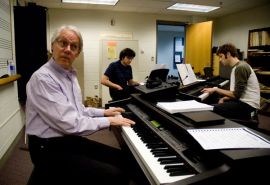 "A flat. Now C. Now E flat," he says, until she hits her stride. With a smile, Steve Brown lets his body loose behind the keyboard, toes tapping, elbows dangling, the mess of white hair and his head swinging easily in time with his fingers and the keyboard under them.
"That a girl — you're talkin' to me now," he says with a smile as she rolls through the piece. "That's the secret, man."
It's Friday afternoon, one of the first days above 60 degree all semester, but Brown's students still show up to his Jazz Piano II class to play and hear him talk about the blues, local musicians and the "phantom guitarist" whose music hung over the quad that morning, though students told Brown the player had yet to be seen.
When Brown began teaching at the college in 1968, jazz "didn't belong" in conservative music schools like Ithaca College, something he also encountered as a student in the early '60s. Signs were scotch taped to pianos in the School of Music when he was a student and until shortly after he began teaching they read "No playing of jazz on this piano," he said.
"It was a very conservative school when I got here — there was a very strong anti-jazz sentiment," he said. "It took me a while to convince everybody it was worthwhile."
Forty years later, Brown is preparing to leave the program most call his creation — a program that has grown to include about 15 full-time students but educates hundreds more and has produced dozens of successful jazz instrumentalists and vocalists.
In the beginning, he was a pioneer, though he'll say the college's program was "late" in comparison to the first jazz program at University of North Texas in Denton, which began in the late 1940s and '50s, and the programs at Indiana University and the University of Miami at Florida that followed.
"I was basically hired to teach anything but jazz," he said. He was an "auxiliary" teacher, teaching percussion, music appreciation and theory. Eventually he began to introduce jazz courses into the curriculum — including a survey of jazz history course, which he still teaches today.
An improvisation class followed and a jazz piano class after that, until he had built a core of students strong enough to create a jazz program of his own, one that continues to be accredited by the National Association of Schools of Music.
Through three college presidents and four deans, Brown has been a one-man band, the only jazz studies professor in the program's existence. During any given day, he'll teach a piano class, an arranging class, a jazz history course and a classical guitar student. He just got back from a music festival in Owego. But it's all right, as long as he keeps up with his schedule.
"That is one of the advantages of the job — I never get bored. There's such a great variety to what I do, it's a challenge to make sure that I remember where to go," he says as he laughs.
The program is still small but large in terms of what Brown can manage. While his budget is low, he said the college recognizes the importance of jazz and apparently, students do, too. The vast majority of students in his classes are music education majors.
"I love it — they're going out into the schools to keep music alive, to make sure it carries into the future," he said.
One of those students was Lauri Robinson-Keegan, lecturer of music performance, a student of Brown's in the early '80s and now Brown's "ally" in the program. Cookie, as he calls her, teaches vocal jazz and Jazz Improvisation I. She said it was her mentor's ability to treat her as a musician, instead of "that chick vocalist," that set him apart from other teachers. Brown has also influenced the way she teaches her own classes today.
"There were many stereotypes at that time — that you [couldn't] teach jazz," she said. "Meanwhile, he and his peers were developing jazz pedagogy and trying to communicate that there is a philosophy behind it."
Part of what Robinson-Keegan said makes Brown a great instructor is his connection and involvement in the world of jazz. He's part of a family largely trained by the college, a line of Browns that began before the college moved to South Hill. His parents, Glenn Brown '36 and Marie Ward Brown '35, studied music at the school's original conservatory. His older brother, Glenn, came to study at the college and Steve followed, studying percussion and earning an undergraduate degree in music education in 1964. His younger brother, Ray, also studied at the school. His 30-year-old son, Miles, named after Miles Davis, is pursuing a doctoral degree in jazz performance from the Eastman School of Music in Rochester, N.Y.
As a teenager, Brown played with his father on television network late night shows. He was a founding player in the National Jazz Ensemble in 1976, and the list of musicians he's played with is likely pages long. He said he never counts them, but they include Chuck Israels and Jimmy Smith, Paquito D'Rivera, Bill Evans, Ray Charles. He and his brother Ray have appeared on a number of albums — both others and their own.
Brown's clear blue eyes focus on the pictures around his office — some in boxes, some still on the walls — as he names the students who have gone on to be famous singers or musicians. Darmon Meader of the New York Voices. Kim Nazarian. Peter Eldridge. The Ashby brothers. Tish Rabe.
It's how Brown continues to attract big-name performers for master classes and performances with his jazz workshop bands, Keegan-Robinson said. Despite the small budget, people come because they love the way Brown teaches — his expectations, his extensive knowledge, his quiet way of pushing, still demanding but not asking more than what anyone can give.
"The only way to really learn it is to hang around musicians — and he emphasizes that," Keegan-Robinson said. "I've never seen him turn away a student who is truly interested in jazz music — ever. It may take him a while, because he's so busy, but he really goes out of his way to pursue people."
Miles Brown said he never felt pressured to study music — either at the high school level or in his career. Though he chose to study at Eastman instead of under his father at the college, Miles said learning from his father was an invaluable resource.
"He really understands what [a] student needs to develop and doesn't hesitate to tell that student [that] there shouldn't be an ego involved," he said.
Miles said he doesn't consider his father famous to the general public, but within the jazz world people know his name.
"He's had a lot of students that go through the Ithaca College program who credit him as giving [them] a good education and a thorough education, and they respect him for his ability to teach," he said.
Sophomore Pat Murphy, a jazz studies major, said Brown's experience sets him apart from other professors.
"He has an old school style — I mean, he's been playing jazz for pretty much 50 years," Murphy said, "But he still gets you to know the real frame work of a jazz harmony and theory and how to apply the sounds."
As a native percussionist and creator of the school's classical guitar program as a graduate student in 1967, Brown has a near perfect knowledge of instruments, Murphy said, which also allows him to "really know how to rehearse a band."
"He's a composer, he's an arranger and he's a very talented musician, so really, his forte is everything," Murphy said. "He has so much knowledge — he's huge."
And it shows. At his jazz workshop concert April 11, Brown's at ease, blowing a kiss to a trumpet soloist and rocking his elbows outward in time with Murphy, who stands playing string bass beside his shoulder. Brown moves across the stage on his toes, sliding across the wood in Ford Hall, counting and humming along with the beat.
"Now this is my favorite kind of blues," he said into a microphone to a crowd that nearly filled the auditorium.
He'll have just one more chance to lead the big band Miles says his father will miss more than anything else at the college: the Alumni Big Band Concert on Saturday — this year in honor of Brown. It will feature 32 alumni of the jazz program who will play and sing arrangements by Brown and his brother Ray. Then Brown will play commencement eve, tour Europe, meet with alumni in Spain. But ultimately he'll stay around, he said. The local music scene — it's rich.
"That's why I like this place," he told his students as they surrounded him in class last Friday morning. "There's weirdos like me and normal people like you. The blues player hidden in the vestibule — he wasn't that bad. … It's all music, man."