James Sooy, Texas artist and entrepreneur, could not imagine pushing his glasses up his nose one more time — so he attached them to his face. Literally. It's called body modification, and it exists.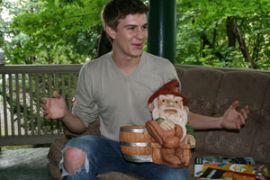 The concept, featured in the article "Body Check: Not Your Grandma's Glasses" by Cornell University student Stephanie Meissner, is one of many risqué pieces in the new issue of "Kitsch Magazine," which came out on Labor Day and is distributed at the Roy H. Park School of Communications at Ithaca College, around Cornell's campus and at other locations in Ithaca, like Collegetown Bagels.
Junior Heather Pusey is the college's liaison for the magazine.
"We have articles about everything, from strippers at Cornell University to the Colbert Report," she said. "It's funny, smart and definitely kitschy."
Evan Mulvihill, a senior at Cornell and a member of the magazine's editorial board, defines "kitsch" as something to be proud of.
"In the art world, 'kitsch' is defined as riffraff, something that you have to look down upon and push away," Mulvihill said. "Calling the magazine 'Kitsch' is almost a way of reclaiming the word and saying 'Hey, 'kitsch' isn't that bad.'"
"Kitsch" is made up of offbeat poetry, prose, feature articles and hilarious sections like "Oodles of Doodles," where unfinished drawings found mysteriously are completed and named by the editors. With its mix of serious journalism and more untraditional content, the magazine is quirky, sassy and smart.
Co-founders Samantha Henig and Katherine Jentleson of Cornell passed the editorial torch two years ago to Mulvihill and Rob Ochshorn, then-rising sophomores at Cornell who were involved with the magazine the previous year.
"It might seem weird for graduating seniors to [have passed] on the torch to rising sophomores, but they didn't have many upperclassmen involved then," said Mulvihill. "They weren't even sure the magazine was going to survive."
With students unable to major in journalism at Cornell, and few other publications to write for, "Kitsch" has become a great outlet for creativity for those who are passionate about journalism but don't quite seem to fit in anywhere else.
"'Kitsch' originally came out of a desire to fill a void," Mulvihill said. "With only a literary magazine and a newspaper, there were only two extremes to choose from."
Cornell's other student publications include the literary magazine "Rainy Day" and the university's newspaper, "The Cornell Daily Sun."
Pusey is currently the only editor on staff from Ithaca College. Even though the publication began at Cornell, the magazine is trying to make its way to the college's campus to employ writers and other students interested in media.
"We are definitely committed to bridging the gap," Mulvihill said. "There is a such a divide between [the two institutions' campuses]. It's a nice move towards a unified publication."
Along with reaching out to Ithaca College students, "Kitsch" is seeing major changes in its editorial staff. Most notably, the magazine has a new editor in chief, Peter Fritch, a senior at Cornell who has been involved with Kitsch since 2005.
Fritch said he wants to see more risk-taking in the writing and content of the magazine this year.
"I would love to be involved with producing a magazine that was borderline tacky," Fritch said. "People would open it up and be like, 'Wow … What is this?'"
Even though the magazine may be alternative and, at times, a little wacky, "Kitsch" has a rigorous editing process that relies heavily on its writers to bring ideas, write articles and take constructive criticism.
"The first time I picked it up, I really loved the content," Fritch said. "[Writers] took something that seemed kitschy or absurd and ended up revealing some social truth or very profound insight."
With the new fall issue out on campus, "Kitsch" editors are coming together to see what new things this year will bring to their magazine.
"Regarding the style, we want to see crazy colors and a hodgepodge of different visuals, so it's not so streamlined," Pusey said. "I believe we said something like 'seizure-inducing.'"