In a Garden Apartment at Ithaca College, a rainbow is standing in for a brick wall. Three thousand-plus paint samples, shamelessly stolen from home improvement stores, are blended seamlessly — from vivid red to yellow, to green, to blue and purple. The kaleidoscope of color is a mural glued together on freezer paper that took three weeks to finish. Junior Maggie DeGennaro created the artwork with the intention of brightening the apartment's drab decor.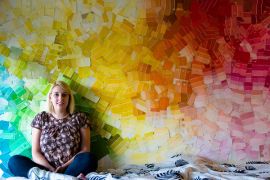 This year, students hoping to create colorful wall art in their dorm rooms or on-campus apartments will need to stretch their creativity to put together decorations that meet new regulations.
The rules against tapestries and flags on walls were developed to not only keep students safe but to save the college from the heavy fines it has incurred in previous years, said Zach Newswanger, assistant director of operations at Residential Life.
"If items were not removed by reinspection, we would be fined," he said. "We're really just trying to make sure that in the event that something happens, students are safe."
Despite this, some students feel the ruling is unfair. Junior Foster Cooper lives in the Garden Apartments and was surprised to hear his flag was against code.
"I was hanging it on the balcony, and I got an e-mail saying, 'You can't have it up there,'" Cooper said. "But I have a flag hanging from a metal balcony, against a brick wall, and if that even catches on fire from God knows what, it's not going to do any damage to the metal or the brick."
Before the ruling, sophomore Joanna Cook, who lives in Bogart Hall, had a bright tapestry covering her messy closet. Now only her posters and wall art remain, and the tapestry covering her clutter is gone.
"The whole tapestry on the closet thing throws me off, because the closet's full of clothes," Cook said. "There are clothes in the closet, they're going to burn too."
Cooper said students need decorations to give their room character.
"The tapestry adds a lot to the room," Cooper said. "I have a huge brick wall and I kind of want to cover that with something more appealing."
DeGennaro is more concerned with the rules regarding covering her wall. According to Res Life, 60 percent of the total wall space in the room can be covered — a rule that may clash with her newly constructed work of art.
When decorating, DeGennaro postponed looking into dorm regulations until she had completed the mural. Now, she is not certain if the wall art will be in compliance with new regulations.
"When we did it, we were like, 'Oh, this might be illegal,' but then we looked into the rules, and we found out that it's not fabric, so it's not a tapestry," DeGennaro said. "It's more like a poster, and it doesn't cover 60 percent of the total wall space so it may or may not be illegal. We'll see at health and safety checks."
Resident Assistant Morgan Ewing said the mural in DeGennaro's room should pass inspection.
"If it doesn't cover 60 percent, you're totally legit," Ewing said.
While DeGennaro is willing to fight for her art, Cook decided to give up her tapestry — which she sewed herself — and use the fabric to make a skirt. For others decorating their rooms, she suggests posters and homemade artwork to brighten up the room.
"I put up a lot of pictures," Cook said. "This year I started putting up my photos that I took in class. I like concert posters, just things that make me feel at home."
Ewing, who lives in Hood Hall, agrees with Cook on her favorite wall decorations.
"[Res Life] tries as much as they can to give you the freedom to put up posters, to put up all that stuff," he said.
Students do not necessarily blame Res Life for having to enforce the rules.
DeGennaro said even if she does not agree with the rulings, she understands the RAs must enforce them.
"I know why they're doing it," DeGennaro said.
Newswanger insists that Res Life is accepting of personal items in rooms, and there are many options to consider when decorating.
"There's few things from home that we don't allow in dorm rooms," Newswanger said. "I just think there are a number of venues you can go through other than tapestries."
Newswanger said if students meet with Res Life and fill out the proper forms, they are allowed to paint their dorm rooms to add a more personal touch to their rooms. This semester, students from 5 different rooms on campus have looked into painting their dorm rooms, and one room has actually been painted.
Junior Bryan Davis, an RA in Bogart Hall, said the college's students should feel lucky that they may have the option to paint their own dorms.
"I think it's unique to the college," Davis said. "I have friends at other colleges who consider themselves lucky to be able to move the furniture."
While posters and pictures seem to be the best way to decorate within the fire code, tapestries are allowed on beds if used as blankets.
Ewing said Res Life is open to suggestions and questions regarding dorm and apartment regulations.
"If you bring that up, they will give it due consideration," Ewing said. "This college is really good about listening to students and RAs who say, 'This sucks, can we do it this way?'"