A petite brunette stands onstage in front of a cloak-and-wand-clad audience. The air is filled with expectation, and the ambience can only be described as magical. With poise and confidence, she belts out the lyrics to the powerful and dramatic ballad, "Alone," that she wrote for this moment.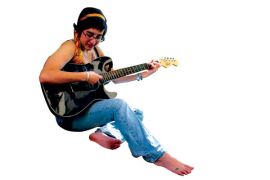 The singer is Ithaca College sophomore Lena Weinstein, the voice behind wizard rock band The Butterbeer Experience, which takes its name from the popular drink in the Harry Potter series. The event at which she sang was Prophecy, a 2007 Wizard Rock Convention in Toronto, and the performance she gave inspired her to create her one-woman band.
Wizard rock is a new underground music movement inspired by the Harry Potter books and films. The movement has recently gained national exposure with coverage by MTV and "The Wizard Rockumentary," a documentary that shows the growth of wizard rock from its early beginnings — originally there were only 30 bands and by the film's end there are more than 500.
Weinstein's music scales different styles, including heart-wrenching ballads, hilarious satires, tangos, folk songs and more. Two examples of this are "Mandrake's Lament" and "For You." "Mandrake's Lament" is a comedic song that describes the annoyance of the creatures in the Harry Potter books because of the ugly earmuffs that wizards wear. The emotional pain Professor Severus Snape feels throughout the series is put to music in the angry, yet mournful, "For You."
Lauren Fairweather, a junior at Elizabethtown College and member of the wizard rock band The Moaning Myrtles, toured with Weinstein for three weeks in the summer of 2007. Fairweather said Weinstein's eclectic sound is one element that increases her appeal.
"You don't just get a girl and an instrument," Fairweather said. "She's really versatile and always impresses me."
Weinstein not only writes and produces her own music but also creates a full score while incorporating harmonies and other musical styles. She plays the ukulele, guitar and piano, and the combinations of different sounds make every song diverse.
Brian Ross, a graphic designer from Rhode Island, was one of the judges at the Prophecy convention, where Weinstein won her first talent show. He is also is a part of the popular wizard rock band Draco and the Malfoys. Ross said Weinstein's performance was memorable and inspiring.
"She had a very theatrical projection that was electrifying," he said. "You could tell she had worked really hard, and she was extremely talented."
Despite her success, Weinstein said she learned that breaking into the mainstream can be difficult. She said she recently tried to attract the attention of Warner Bros. to attain an internship working on the soundtrack for the seventh Harry Potter film.
"I got lots of recommendation letters and support from past composition teachers," Weinstein said. "I mailed it out to seven people but didn't hear anything back, not even a standard letter that said, 'Thank you for contacting Warner Bros.'"
Weinstein is now in the process of writing the music for "James Potter and the Hall of Elders Crossing," a film made by fans based on a fan-fiction novel with the same title. The film will be released Nov. 21 online.
The Butterbeer Experience was one of 15 wizard rock bands that performed in May at Wrockstock, a four-day wizard rock showcase in Missouri. During her performance at Wrockstock, Weinstein said, she had an emotional and connected moment with her fans while singing "Chapter 34," a powerful ballad inspired by the heartbreaking chapter in "Harry Potter and the Deathly Hallows."
"Everybody in the room was crying, and then I started crying," Weinstein said. "It was really the embodiment of the Harry Potter community and wizard rock summed up in a four-minute period for me."
On Sept. 20, Weinstein performed for shoppers on The Commons during the Water for Sudan benefit concert, hosted by Students Taking Action Now: Darfur. Weinstein, one of four acts that day, performed what she calls her "muggle" music, or non-Harry Potter themed music. The songs ranged from dramatic to inspirational to upbeat fun numbers such as "Songs About You," "The Road" and "Chocoholic."
Sophomore Samantha Wolfe, vice president of STAND, said she enjoyed Weinstein's performance and her ability to energize the crowd.
"Lena was a very enthusiastic performer who really got the crowd going," Wolfe said. "The songs were all very fun.'"
Last April, Weinstein put together the first Ithaca College wizard rock concert in IC Square. The Butterbeer Experience, The Chocolate Frogs, Snidget and Fred and George the Band performed to an audience of wizard rock fans and also the occasional passerby.
Weinstein said it was great to watch students who had never heard of wizard rock discover the music.
"I wanted to introduce more people at Ithaca to wizard rock," Weinstein said. "It was really cool because there were people just sitting in the pub doing work who really liked it."
Junior Nick Bombicino attended the concert and said he wishes they had gotten the word out more.
"I loved the huge amount of enthusiasm from everyone that performed," Bombicino said. "They should do more advertising if the event happens again."
The day after she pleased crowds on The Commons, Weinstein performed at the New York City Wizard Rock Festival with 16 other bands to a crowd of more than 300 Potter enthusiasts.
Nancy Pisani, head coordinator of the event, said she admired Weinstein's ability to grab an audience.
"She has a very moving voice that can convey a lot of strong emotions," Pisani said. "The audience was really into her and everyone enjoyed her performance."
Weinstein said performing in the wizard rock community alters the usual fan to rock-star dynamic.
"I don't like the word fans," Weinstein said. "The wizard rock and Harry Potter community is so free and easy-going that there is no real distinction between wizard rock band and wizard rock fans. We're all fans in the end."
You can listen to a sampling of Weinstein's tracks at www.myspace.com/TheButterbeerExperience.