At 1 a.m., a small corner of Dryden Road is still awake. The smells of kim-chi quesadillas and spicy beef waft from behind the counter at Dasan-J, a Korean restaurant in Collegetown, as a man with a mustache cheerfully whistles as he cooks.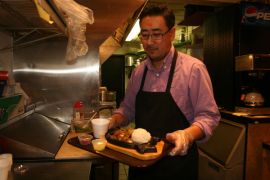 The small restaurant is alive with students picking at their noodles, chatting excitedly and enjoying their night out. The chef puts the food on a tray and walks over to the students crowding the restaurant. He sits down and starts to talk to them about their projects and future films. Meet Changhee Chun — dedicated filmmaker and Ithaca College assistant professor of cinema, photography and media arts by day, expert Korean chef by night.
"Every weekend, at least six or seven students, my students, come to Dasan-J," he said. "If it's not that busy, I usually sit down with them and talk about their projects or their classes or assignments or things. To me, it's like additional office hours, in a better, friendly environment."
To Chun, relating to students is crucial both in and out of the classroom. He often invites students to his house to have dinner and talk about their projects.
"So a lot of menu items for the nighttime specials I developed is the menu I actually cook for my students," Chun said.
That menu, which is offered at Dasan-J on Thursday through Sunday nights, is one of Chun's contributions to the restaurant. His friend, Jaesik "J" Jung, opened Dasan-J in 2004 in an effort to introduce Collegetown residents and visitors to Korean food, but he had trouble selling to penny-pinching college students. Chun recalled the price changes made to accommodate them.
"Two things you have to think about are, No. 1, you need to give a lot of food, [and No. 2] it's got to be cheap," he said.
Chun's hobbies and habits — restaurant cooking on the weekends and academic advising over dumplings — only hint at the man behind the dark-rimmed glasses.
Chun, or "Ugly Chang" as his students call him, studied film at Hanyang University in Seoul, South Korea, and continued his cinema graduate studies at the University of North Carolina at Greensboro. He said while he could have studied medicine or law, the power of film drew him in.
"I truly believe that film is the most powerful medium to communicate with other audiences and people," he said.
Chun takes communicating with audiences seriously. As an employee at a television channel in South Korea, he has made dozens of documentaries and is currently working on the "Across the Sky" documentary series for the network. He made his first feature-length film, "Creation," a semi-autobiographical film about filmmakers, in 2003.
At the college, he founded the "Find Your Inner Seoul" film festival, an exchange between cinema majors from the Roy H. Park School of Communications and film majors from his alma mater. Chun also routinely takes students to Korea to make films with him — making culture exchange a seamless transition for students like senior Laura Zdan, who traveled with Chun during the summer of 2007.
"It was my first time out of the country, doing documentary stuff, doing what I want to do," she said. "I was so close to giving up, and he really kept me going."
Senior Victoria Chenoweth went to Korea with Chun last summer and helped with his documentary on Vietnamese migrant workers. She said his belief in his students is what makes him such a fantastic teacher.
"He is so serious about every student having equal abilities and the talent just has to be brought out," Chenoweth said.
As if using his shifts at Dasan-J as office hours was not enough, Chenoweth said Chun once drove camera batteries to a student hours away when he forgot them. To Chun, it's just part of the job.
"The most important thing in teaching film production is how I can motivate students to do their best … just observing how they grow up and how they make progress," Chun said.