The menu at That Burrito Place is awash in self-referential humor. Customers can choose from "that burrito," "those tacos," "this salad" and a host of other ambiguously named foods. As of last month, they can do so at the restaurant's new location on The Commons.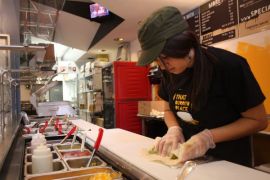 Owner Jeff Mayer wrote the business plan for That Burrito Place as a graduate student in hospitality at Cornell University. He graduated in 2005 and opened his first restaurant in Collegetown in January 2007. Mayer said opening other locations was always part of his plan.
"We've been looking for a space down on The Commons for quite a while," he said. "And when this opportunity presented itself, it was just a natural selection. It was very easy for us to kind of fall into this place."
"This place" is the building formerly occupied by Juna's Café, which closed last spring after seven years, an eternity in the life of a shop on The Commons. While the café's former owners have not fallen off of Ithaca's culinary map — they've moved to the Cornell campus — the opening of That Burrito Place's new location marks a shift in the fabric of The Commons.
In the week since the restaurant's low-publicity "soft opening," employee Arlene Mackey has seen people ask for Juna's staples like coffee, local artwork, community bulletin boards and ethnic music. But she has also seen a booming lunch crowd and a large number of families, both of which she feels are signs the business will be successful.
"[Business is] a lot better than I thought it was going to be because we don't have much marketing out," Mackey said. "We had a little blurb in the Ithaca Journal the first day and a few takeout menus passed around The Commons, and that's about it."
Mayer said opening a restaurant on The Commons presents different challenges than those faced in Collegetown. Among these challenges is a change in demographics. Customers on East Hill tend to be college students and employees, while customers downtown tend to be more diverse.
For this reason, the lack of publicity was intentional. As business at the new restaurant reveals the tendencies of its market, That Burrito Place will change accordingly. For example, Mayer said the number of customers with children caused him to rethink the ads he plans to run.
"We had some kind of edgy advertising that we're going to hold back on so we can go with a little bit more family-friendly advertising," he said. "It's still going to be That Burrito Place with edge, but we're going to clean up some of the dialog in our advertising."
Another group Mayer expects his new location to attract is Ithaca College students, many of whom have ordered from the Collegetown restaurant online, without knowing its location.
Senior Alex Rothauser said the lack of a nearby location had prevented him from ordering from That Burrito Place in the past.
"A burrito is something that you really should specify exactly what you want," he said. "A pizza is, you know, 'I want a cheese pizza.' This is something where you say, 'I want this, and this, and this,' which doesn't really lend itself to online ordering."
It may seem strange to open a new restaurant during an economic crisis, but Mayer said he doesn't expect the economy to affect his day-to-day business. Where he does expect to feel its impact is in future expansion.
"The bad economy is going to hurt me when it comes to raising money for the additional restaurants," Mayer said. "But if I have a proven track record, there is money out there for good investments."
In the two years since its first location opened, That Burrito Place has proved to be a good investment for Mayer's backers. Whether it will live up to Juna's legacy remains to be seen.