Tattooing someone, according to Medusa Tattoo's Cesar Enciso, is not simply about dragging a needle across the skin. It's an arduously executed ritual in which every microscopic dot comes with a symbolism. More than that, it's a technical feat — one susceptible to disaster with each rhythmic puncture.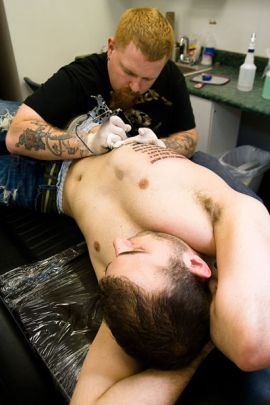 Limiting the danger of disease — or more specifically, going to great lengths to choke, dissolve and burn its microscopic components — is what Enciso and other professional tattoo artists in downtown Ithaca do best. Medusa Tattoo, along with Model Citizen, Stiehl's Body Modification, The Hand of Fate and Sfumato Tattoo, holds itself to rigorous safety standards. Each parlor, stocked with disinfectants, sterilization machines, soaps and rubber gloves, projects a scrubbed-down, doctor's office aesthetic.
"You assume that everyone who comes through your door has every disease known to man and some that were never discovered," Enciso said. "It's the only way to keep people safe."
Because New York is one of 22 states without formal hygienic requirements for tattooing, artists in Ithaca must take it upon themselves to eliminate health liabilities like hepatitis and HIV. Before inking anyone's skin, Enciso undergoes a fastidious preparation process that involves scrubbing down surfaces, fastening new needles to his gun, inspecting each needle with a magnifying glass for scratches and imperfections and disinfecting the recipient's skin. He also is careful to explain every step of the process — including aftercare instructions — to each customer. Such preparation, he said, is absolutely necessary to ensure the safety of both parties.
"It's a very technical procedure," he said Friday over the hum of his needle. "You have to know what you're doing. You're dealing with peoples' blood — their body and their well-being."
Procedural safety is only part of the equation. Ron Stiehl, the owner of Stiehl's Body Modification on Cayuga Street, said tattoo artists should also ensure the equipment they use to clean and sterilize their tools is up-to-date and inspected. Stiehl hires a private company to conduct a biyearly maintenance program for his autoclaves, or sterilization ovens. He spends hundreds of dollars every year to keep them up-to-date and pristine.
"Autoclaves aren't cheap," he said. "Keeping them [maintained] isn't cheap either … . We have to do things right to keep from putting ourselves out of business."
Stiehl said he would like to see official state regulations for clean tattooing. New York's current law, which in its actual wording expresses concern over "the risk of infection and disease transmission" and "medical complications," stops short of instituting clinical guidelines. The only restrictions that exist are those forbidding minors from getting inked.
It was not until Nov. 1, 2006, that Oklahoma legalized tattooing, making the practice formally allowed in all 50 states. Tattooing laws have always been a point of contention throughout the U.S., mostly for moral or safety reasons. While a couple of states lack any laws whatsoever, others employ specific hygienic requirements.
"It is better to have regulations and guidelines than it is to not have anything," Stiehl said. "For the honest people out there, there's really not a problem with them having no regulations. The people who do cheat, there's no way to catch them."
Stiehl said those who "cheat," dodging health standards by operating out of houses, basements or garages, are generally known to professional tattoo artists as "scratchers." Though many artists around town said they would like to take formal action against scratchers, most of them — and others who have tattoos — acknowledge that it's up to customers to make educated decisions regarding personal safety.
"It's more dangerous for newcomers because they won't be able to recognize the signs," senior Ally Levine said. Levine, whose 15 tattoos include a cobweb-draped skull on her right hip and a full-arm sleeve splashed with vibrant purples, said verifying an institution's safeness is often a common-sense task.
"You can tell if a place is legitimate or not by how they treat you when you enter," she said. "If you're not taking your customers seriously, and you're goofing off, I don't take that vibe very seriously."
Junior Ryan Miga got the tattoo that wraps around the left side of his torso at Medusa. He said it's often the "obvious stuff" that betrays a tattoo artist's skill — or lack thereof.
"You're talking about something that's going to be a part of you for the rest of your life," he said. "I've seen tattoos that have gotten really messed up because people have gone to shady places — like weird infection scars and stuff."
Enciso said because New York laws do not call for any specific hygienic conditions at parlors, stores that do not employ scrupulous safety practices still operate — sometimes charging much less than their competitors.
Still, many artists in Ithaca say they have set a bar for themselves high enough to meet and exceed any standards the state might introduce.
"We wouldn't have an issue if a law were passed," said Chris Brandli, an apprentice at The Hand of Fate on West State Street. "It would probably be good in the fact that [unsafe] places would be regulated and hopefully shut down."
For now, all tattoo shops in Ithaca operate without any clinical strictures. Newcomers will have to rely on themselves to distinguish institutions that are safe from those that are not. Inevitably, some customers will prioritize a dollar sign above a sterile atmosphere. But this will not be proportional to the price they might pay later on, Enciso said.
"We've all been trying really hard in the town to get tattooing up to a standard," he said. "You always have to maintain your standards so that your clients are safe and the town is safe."