Most people walk down the aisles of hardware stores looking for tools to fix leaky faucets or to choose a new paint color for their bedrooms. Ryan McGuire, an Ithaca resident, strolls down those same aisles in pursuit of inspiration.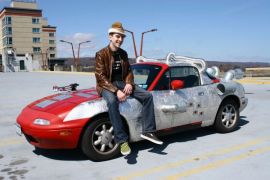 With some basic supplies, such as dryer vents and screws, and plenty of imagination, McGuire transformed his Mazda Miata into the spaceship car that travels around Ithaca.
"People love to see this car because it's completely against all the rules of normal life," McGuire said.
This is McGuire's third "spaceship car." While he has spent less than $100 on the materials, the spaceship car has cost him more than 40 hours of labor to build in the last year. His fixation with dressing up his car all started when he tried to cover up its rusty body and realized the aluminum foil he used made the car look like an outer space object.
"I kept taking it one step further until it evolved into this masterpiece of mobile art," McGuire said.
The modifications on the car are extensive. He connected his iPod to a speaker on the back of the spaceship, so now it projects a loud countdown to blastoff. He even replaced the traditional gear shifter with a computer joystick that he said makes driving feel like flying.
"Every day is an adventure with the car, wacky in it's own way," McGuire said.
McGuire receives a great deal of attention for his car. He said whenever he pumps gas or goes to the store, people always ask him to pose for photos. McGuire said he interacts with at least 10 people each day because of the spaceship. While he is used to the attention, his girlfriend Susan Villarreal is always surprised by it.
"When you drive around, you're not used to people noticing you, but when you drive around in the spaceship, it seems like all eyes are on you," Villarreal said.
McGuire and Villarreal started dating almost three years ago. Villarreal said McGuire has made her more open and accepting toward people.
"He makes people start to think and realize that they don't have to be automatons," Villarreal said. "You can be yourself and do weird things."
His abstract ideas extend further than his car, though. McGuire refers to himself as a "scientist of life," experimenting with people and social norms, often breaking rules along the way. For example, he has been wearing bells on his ankles under his pants every day for almost four years. He is motivated by creating opportunities to communicate with strangers and challenging the unsaid rules of society.
"I'm kind of like an icebreaker," McGuire said. "I have the personality that can do the bells and drive the spaceship car because I'm willing to engage with people."
McGuire prides himself on being an "anti-procrastinator," often acting on ideas as soon as inspiration hits. He said that as soon as he decided he wanted to wear bells, he took his lunch break at work and went right to the store and bought them. His brother, Justin McGuire, said he is never surprised when his brother does something others might consider strange.
"Ryan is a kind of person who acts on his impulses," Justin McGuire said. "If he has an idea, he runs with it."
McGuire is passionate about brightening people's days. He started the Web site www.helpingmovement.com to connect people looking for help with anything from moving to traveling. Unfortunately, McGuire ended up being one of the few people to help those who posted on the site. He also hands out cards, the size of an average business card, that say, "Thank You," with his e-mail address to anyone he thinks deserves one. McGuire said he has given out thousands of cards, and he's received many positive responses.
"These cards are a bonus for people that are normally taken for granted, and I'm trying to engage with everyone and make them happy for just a minute of their day," McGuire said.
McGuire has also created a program called "University of Rock" with Megan Ausen, vice president of public relations at WVBR radio station in Ithaca, where bands from Cornell compete for studio time to record their albums. She said DJing with McGuire has been a rewarding experience.
"McGuire is the most unique and hilarious person I've ever met in my life, I can safely say that," Ausen said.
McGuire said he tries to live each day to its fullest. He has acted in music videos, made furniture from copper pipes, performed stand-up comedy and will bust out a harmonica to play on demand if asked. For many, the spaceship is just a first look into McGuire's creative personality.
"I really do, do everything I want," McGuire said. "I can honestly say that at this exact moment in my life, I've done everything I've wanted to do. But there will be more, which is the greatest part of life."