Long striped skirt? Check. Gold coin earrings? Check. Rainbow-colored shoes? Check. As Katharyn Machan, professor of writing, puts on her outfit in the morning to wear to her classes, she runs through this list in her head.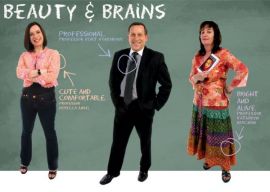 "It's not a question of showing off, but of showing respect for each other by dressing in interesting ways," she said. Machan's outfits help lighten up a day loaded with work, she said.
In an April article in The Chronicle of Higher Education, Rachel Toor, assistant professor of creative writing at Eastern Washington University, found that most academics appear uninterested in fashion and trends. They feel that to be taken seriously, they must dress formally.
Some professors at Ithaca College think the way they dress determines how their students react, but in reality, students check out professors' clothing for pure enjoyment.
Freshman Anna Rosenblatt said Machan's outfits describe her personality — quirky.
"I remember the first day of class, and we walked in, and she was wearing all pink — everything was pink," she said. "You start to piece together what she's going to be like."
Machan said when she was going through the tenure process, she wore suits all the time. Students and colleagues would never find her in the colorful outfits she wears now.
"It was like a suit of armor," she said. "And once I got tenure, I sold or gave away all suits."
Now, Machan fills her wardrobe with bright, cheerful clothing of all shapes and cuts.
Janet Galvan, professor of music education, said she wore all black when she began teaching at the college so that her choral students wouldn't be distracted by her clothing. She said she was much younger and felt the need to look as professional as possible.
"You want people to take you seriously, and I did try to mask any femininity," Galvan said.
After growing tired of her monochromatic uniform, and becoming more experienced in her role as a conductor and a professor, Galvan shifted her way of dressing.
"Now, I figure I am old enough and I'm experienced enough that I can be who I am, and it doesn't depend on what I'm wearing," she said.
Business and marketing professors said since professional attire — blazers and dress shirts — is the norm in their fields, they don't find it restricting.
Scott Hamula, associate professor of strategic communications, said he enjoys wearing a suit because it not only makes him look professional, but also sets him apart.
"Sometimes people have trouble differentiating me from students," he said. "Sometimes I wear suits to get away from the youthful appearance and add to the professional."
Kurt Komaromi, professor of marketing and law, said he is used to sporting a suit and tie because of his experience in the corporate world.
"It's what I'm comfortable wearing," he said. "If I were to take a different approach and come in jeans and a T-shirt, I would not feel comfortable and confident."
Toor said, in her article, that academics often assume displaying a sense of fashion means they come off as flaky, but disregarding their appearance can harm, not help, their reputation.
"Ill-fitting clothes and frizzy hair do not make us look smarter, only less appealing," she said.
But Nicholas Vandam, assistant professor of mathematics, who rides his bike to school year-round, said wearing casual attire helps create a certain atmosphere in the classroom. His students are accustomed to seeing him in bike shorts and T-shirts.
"I have always been comfortable wearing casual clothing and feel more connected to the students than if I dressed more formally," Vandam said. "I try to present a relaxed, informal atmosphere in class, which I think is the best environment for learning."
Senior Tatiana Sy, who has her own fashion line, said she easily relates to professors — like Sean Eversley Bradwell, assistant professor in the Center for the Study of Culture, Race and Ethnicity — who mix casual and professional trends during the week.
"His overall persona, including the way he dresses, makes him even more appealing to students beyond the fact that he's brilliant," she said. "He would come in some days in Timbs and a polo, and it was something that you would definitely notice and appreciate. It just makes for good conversation, and you feel like there's a connection there."
Eversley Bradwell said he has no typical outfit planned for teaching.
"I try to get students to pay less attention to the wardrobe and more attention to the message and material," he said. "Whether one wears jeans and work boots or a suit, [what matters is] how we encourage students to get past the style to the substance."
Toor said it's easy for professors to forget that students not only listen to them, but spend hours looking at them as well. Sy said it's hard not to pay attention to professors' style.
"You're staring at one person in the front of the classroom for the whole session, so it's natural to observe what they're wearing," she said. "You just notice the professors who enjoy wearing the clothes they've been wearing for the last 40 years and the professors who keep up-to-date in terms of their style."
So whether Machan's outfits trigger a conversation or lead right into the lesson plan, she's saying she's comfortable — not that she is unintelligent, unequipped to teach or lackadaisical in her fashion choices.
Rosenblatt said Machan's clothing describes her perfectly.
"Instead of getting to know her personality first, you meet her clothes first," she said. "And you're like, 'Oh, I know exactly what your personality is going to be.'"