The curtain is shut, a barrier of protection between nervous actors and an eager audience. Months of rehearsals, learning lines and songs and how to work together — these countless hours manifest themselves in this moment. The world freezes for an instant and everyone involved with the Cornell Vet Players' production of "Brigadoon" shares the same sweaty palms and excitement pumping through their veins.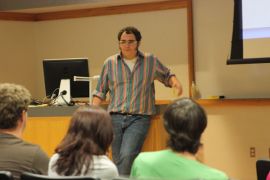 Director Dustin Bell '09 anxiously watches months of organization and coaching transform into a reality.
The curtain lifts.
"The most rewarding moment in theater is right before the curtain opens," Bell said. "That feeling is like all the energy of rehearsals surging through your fingertips and your toes and your brain in 10 seconds."
This energy he experienced during "Brigadoon" last spring inspired Bell to create the Ithaca Theatre Project, a theater company that aims to unite the talents of students, community members and professionals to produce performances locally. The idea came to him during his senior year at Ithaca College.
"I think we're providing a new look at theater because we're bringing together the young and the old, the new and the established, and the out-of-towners and the locals," Bell said.
Bell decided that the first step to starting the company was to look for others who wanted to be involved, so he created a Facebook group. Within the first month of its creation, more than 100 people joined. He then invited them to a meeting at the Whalen Center for Music last spring. Bell said the 16 student and community member turnout surprised him.
"They were absolutely fantastic, and everybody came in with a great energy," he said. "Everybody had just a really positive attitude about the company itself."
On July 19, the Ithaca Theatre Project performed its first summer cabaret at the Carriage House Café on Stewart Avenue. The actors performed a medley of 1940s and '50s musicals to an audience of more than 50 people. Priya Iyer, a sophomore musical theater major, performed in the cabaret.
"It was a really good turnout," Iyer said. "The audience seemed really engaged with the performance and happy with the outcome."
As for the upcoming 2009-10 season, Bell said the community can expect staged readings at the Ithaca Coffee Company, a holiday cabaret at the Carriage House Café, a solo vocal performance and a Shakespeare presentation at the alley between the State Theater and the former Lost Dog Café on Cayuga Street.
Loreto Pizarro, a senior vocal performance major who attended the most recent meeting, Saturday in the Whalen Center for Music, said she's looking forward to performing in the upcoming season.
"I think it offers an opportunity to connect with community members and local students," Pizarro said. "It's a way of bringing members of the community together."
Bell first realized his love for theater in elementary school, during his first performance where he played a sideways-swimming dolphin in a school play.
"I was getting praised for playing 'make-believe', which I loved to do anyway, and it was such an amazing feeling," he said.
Senior Luke Elmers attended high school with Bell and said Bell's drive and passion will make the company influential in the community.
"Dustin has so much tenacity and determination, and he is so focused when he gets started on something that I have no doubt that the organization is set up to be a success," Elmers said.
Bell attributes his confidence to start and run the company to his vast experience. He said he wants his company to be a community of theater-lovers and is currently looking for people to be on the board of directors. Elmers said that Bell hopes that the company will become a self-sustaining staple in the Ithaca theater community.
"One of Dustin's challenges will be establishing a sense of credibility and longevity in the community," Elmers said. "Developing a sense of community will be integral to the company's success."
Bell is optimistic about the future of the Ithaca Theatre Project and about his career in the theater world.
"Theater is such a powerful entity," he said. "I live for it. It is my life force, and it is my sanity. I wouldn't want to do anything else."
For more information on joining Bell's Ithaca Theatre Project, visit www.ithacatheatreproject.com.