Senior Zaneta Clarke is going out for Halloween this year. She and her friends are meeting early to do their makeup and plan out their evening. Instead of heading to clubs and house parties, they plan on going door to door — trick-or-treating for a cause.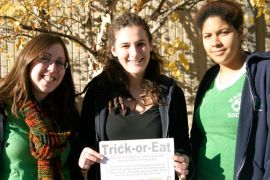 Organized by Stop Wasting Ithaca's Food Today, "Trick or Eat" is a new organization collecting cans of nonperishable foods throughout the Ithaca community for the Tompkins County Food Shelter. Clarke, who helped organize the program, said she did a similar drive in the past and was looking for a way to do a fun service project.
"Collecting cans is pretty easy, and it's a good way to give back to the town of Ithaca in a way," she said.
The program is designed to send extra cans of nutritious food from around the community and the college's dining halls to the Tompkins County Food Shelter, so they can be dispersed to the surrounding areas like Caroline and Danby. Junior Danielle Sherwood, marketing and advertising chair of SWIFT, said these rural areas have a high level of "invisible poverty," or working poor.
"It's not that people can't afford to buy food because they don't have a job," she said. "It's because they can't pay the electric bill, and the rent, and for clothes and insurance. And when it comes down to getting all your bills paid, there's not enough left over to buy healthy food for your family."
John Ward, co-coordinator of the Tompkins County Food Distribution Network, said he was pleased with the students' efforts to start the "Trick or Eat" project. The network is made of 16 different food pantries that distribute food to local communities.
Ward said the project will be especially helpful because of its timing in the network's schedule.
"This is the time of year where food pantries start running low on funds to actually purchase food," Ward said. "So the more donated food that they can get during this time of the year helps extend our food budgets going into the new year."
Clarke, who is not formally part of SWIFT, said she heard about the idea from other clubs and thought that it would make a great food drive not only for the college, but also for the entire town.
She has done service trips during spring breaks in the past and got the idea for "Trick or Eat" from the group IC CARP, or Collegiate Association for the Research of Principles.
"We're just trying to get everyone involved," Clarke said. "I actually sent out a flier to the high schools too, and the middle schools. And they can send it out to their parents. So even if they don't participate, they know to get extra cans."
Students will meet at 4 p.m. Saturday at the flagpole outside Textor Hall and organize into small groups. From there, maps will be dispersed, and the groups will split up with different drivers to cover as much of the town as possible.
Both Clarke and Sherwood encouraged people to dress up for the event — they plan to dress as a pirate and Sex Pistols bass player Sid Vicious, respectively.
Junior Kelly Paul thought "Trick or Eat" was a relevant and appropriate event. She said the drive was a new take on a timeless tradition.
"It's an interesting spin on trick-or-treat night, which is all about getting candy for yourself," she said. "This is all about providing other people with food, and you also get to do the trick-or-treat thing. At this point in our lives, we more or less just dress up and go out."
Clarke said if this drive goes well, she plans to coordinate another similar drive in the spring called "Spring Cleaning," where families go through their house and clean out their cabinets to donate food. She hopes that other clubs and service projects on campus will advertise further than just the college.
"Events on campus, like multicultural events that are only advertised on campus, they aren't really opened up to people downtown," she said.
Sherwood said the drive is an encouraging sign of the growing advocacy movement at the college.
"In the past two years, I think it's always been there, but it hasn't been so dominant," she said. "Activism, particularly this year, has been coming back. And I think that's great."