Some students earn money by refilling the salad bar at the dining halls or folding clothes at Urban Outfitters downtown. Ithaca College junior business administration major Matt Ruger has a slightly different approach.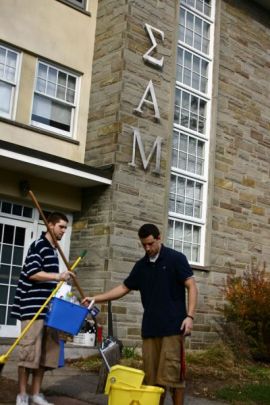 In the aftermath of a Saturday night party at a Cornell University fraternity house, Ruger is the one who's called to clean up the mess.
While taking 15 credits, Ruger created his own commercial and residential cleaning company called Maid-to-Shine. He cleans apartments for property management companies before college students move into them, but he said his primary market is Greek life.
"Frats and sororities are always going to have money," he said. "They're always going to want their places clean because they're fairly dirty, and college kids don't like to clean."
Maid-to-Shine currently has an account with the fraternity Sigma Alpha Mu at Cornell. Matt Negrin, the fraternity's house manager, said the fraternity's decision to use Ruger's services was partly based on the swine flu scare.
"Before he came, we started to get some mold in the showers, and the bathrooms definitely weren't as clean as they could be," Negrin said. "We thought it was important for the safety of the house to hire him, and he's done a great job. The mold's gone, and it's definitely taken a weight off our shoulders in terms of cleaning after big parties."
Ruger started his business when he returned to Ithaca College this year after he transferred to Florida Southern College his sophomore year. The knowledge he gained from his marketing class at FSC — as well as the success of his professor who has his own business — ignited Ruger's plan to create his own company, he said.
"I saw [my professor] drive to school one day in a brand new Lamborghini, and that sparked my interest quite a bit," he said. "In his class, we had to come up with a company [for a project], and I came up with a commercial cleaning company. That was when the whole business idea came about."
Ruger manages all aspects of his business, including accounting, purchasing supplies and finding potential employees. As of now, his friends help him out with some of the cleaning jobs to earn extra money. After he further markets his business and is able to earn a consistent cash flow, Ruger wants to add employees to payroll and eventually franchise the company after graduation — maybe even start one in Florida. As of now, he charges $25 per man-hour for his services.
When Ruger and Sean Lewis, Ruger's friend and employee, clean, they use all green products, which Ruger said will become a key factor in attracting new clients. Aside from promoting a sense of sustainability, they keep a high level of professionalism while on the job. They systematically scrub all the bathrooms in the fraternity, from the tile in the showers to the windows, sinks and mirrors.
Ruger also has a biweekly service arranged with the Gal family in Cayuga Heights who recently moved to the Ithaca area after Steven Gal accepted a job at Cornell teaching entrepreneurship.
Lisa Gal, his wife, said her housekeeper focuses on tasks such as laundry and changing linens, which doesn't leave much time for work that requires elbow grease. She was interested in hiring someone professional to do more heavy-duty work, such as cleaning bathrooms and floors.
"The housekeeper and I were falling behind," she said. "I was interested in a crew coming in who could really get the grime up. The idea that [Maid-To-Shine] is a student-owned and operated business was great because I'm happy to support students."
Lewis, who graduated from Ithaca High School with Ruger, plans on eventually working full time and being promoted to a management position within the company. He said he helped Ruger get the business started and plans to play a more integral part in the company.
"I like it because there's a lot of room for progression in the company," he said. "I'm working with one of my best friends. It's not like I have to go to work every day and answer to someone I don't know."
Though Ruger is busy managing his business, he also takes part in cleaning. He said it's important that he continues to clean with his workers after his business picks up.
"It shows your employees that you're willing to work too," he said. "That goes a long way [when] you're not just sitting there telling them what to do. You're actually busting your butt scrubbing the floors."
Ruger said his father's support has helped him in adopting his own philosophy for putting himself out there in the business world.
"If you don't fear anything, then you have nothing to lose," Ruger said.