Mike Blaney
Steven Spielberg
Director
Sophomore film, photography and visual arts major Mike Blaney made his first movie with his little sister when he was only 8 years old. As a kid, he wasn't producing high-quality films, but he was realizing his passion behind a lens.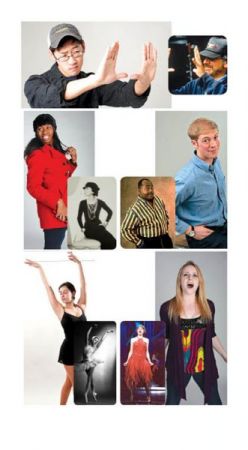 "I had her sit on a table, and I walked into the frame and said, 'I'm going to make my sister disappear,'" he said. "Then I had my dad stop the recording, my sister walked out of the frame, and I started recording again."
Some of Blaney's scripts depict scenes of explosions, chaos and special effects. With aspirations to produce high-octane films like those directed by Steven Spielberg, Blaney has been fine-tuning the way he develops his films while studying at Ithaca College. Last year, his conceptual short film "Lens" was endorsed on the college's YouTube channel. The film showed Blaney's affinity for eerie visual effects similar to Spielberg's.
"I come up with the craziest plots," he said. "People are flying through the air. Nuclear bombs are destroying entire countries. I like to think, 'OK, how crazy can I get?' … then I start revising."
Sydney Normil
Coco Chanel
Designer
Sophomore journalism major Sydney Normil aims to see her original designs walk down a catwalk. Her focus on black, form-fitting ensembles invites comparison to the daring designs of Coco Chanel, the French femme fatale who changed the face of fashion.
"Coco Chanel revolutionized fashion," Normil said. "She had a way of taking things that are so simplistic and making them extravagant. I want to do the same thing."
Normil is currently working on her designs for the Maestro Productions fashion show next semester at Ithaca College. As a premiere designer for the show, her fashions will be featured alongside other college designers. Last year, she designed costumes for a student film called "Time's Arrow." She compiled contemporary clothing and created jackets and coats from scratch.
Normil said she wants to make bold choices to create eye-catching clothing.
"I want to take basic human figures, bold shoulders, lace, leather and manipulate it in such a way that it brings a whole new life and attention to what it was previously," she said.
Joe Pera
Reginald VelJohnson
Comedian
Senior cinema and photography major Joe Pera doesn't open his acts with over-the-top, gaudy humor. Known for his low-key style, Pera still manages to make crowds crack up. In November, he won first place in the IC Stand-up competition and has established himself as a successful comedian on campus.
He models some of his comedy after Reginald VelJohnson, a family friend who Pera called "Uncle Reggie" as a kid. VelJohnson played the cool, collected family man Carl Winslow on the television series "Family Matters."
"He knew my parents before 'Family Matters' and once the show got going it was pretty exciting," Pera said. "I just wanted to be like Uncle Reggie. He wasn't the funniest character on the show, but he held that family together."
Laura Kathrein
Julie Kent
Dancer
Though she isn't pursuing dance or performance full time at Ithaca College, sophomore outdoor learning adventure major Laura Kathrein's arabesque doesn't lie — she's got some serious moves.
"I didn't really see the point in getting a minor," she said. "I'm still taking ballet, and I'm in Rock Hard Dance Company, so I figured that was enough. Maybe after college, I'll join a company. It's still up in the air."
The Chicago-born dancer looks up to Julie Kent, an established ballerina renowned for dancing in classical ballets like "Romeo and Juliet" and "Swan Lake." Kent also made an appearance as Juliet in a ballet from the movie "Center Stage."
"When I was a kid, my dream role was to dance like her in 'Romeo and Juliet,'" Kathrein said. "Every time I watch the balcony scene, I cry. Her way of moving is so fluid and flawless."
Elizabeth Hake
Sutton Foster
Actress
Sophomore musical theater major Elizabeth Hake has a mean set of vocal chords — and she's not afraid to belt.
Hake has already performed in two main stage productions at Ithaca College, including "Children of Eden" this year. She finds inspiration from Sutton Foster, the Tony Award-winning actress who originated the role of Millie in the Broadway production of "Thoroughly Modern Millie" — a role that Hake played in high school.
"It was my first big role, and that's what got me interested in theater in the first place," she said. "The way Sutton Foster played her was very much [like] myself. She has these funny little quirks in all her characters, which I absolutely adore. Every person has their own uniqueness, and she always puts them into her characters."