For Lindsay Gilmour, assistant professor of theater arts, dancing has always been an important part of college life. Now, she makes sure to encourage her students to experience dancing at a higher level.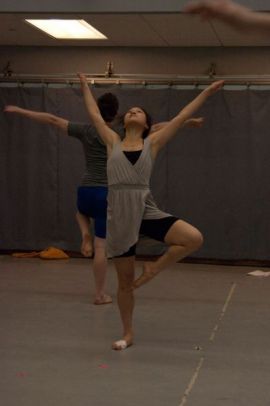 Tomorrow, 11 students from the college, Gilmour and Amy O'Brien, an instructor in the theater arts department, will participate in the American College Dance Festival conference in Erie, Pa. This is the first time the college will be attending the festival, which is a testament to the growing strength of the dance department, Gilmour said.
Gilmour attended the festival in 1998 when she was a student at the University of Montana.
The American College Dance Festival Association is an organization that supports college and university dance departments and holds the National Dance Festival every year in regions throughout the U.S. Routines chosen from the performances at the festival will be selected and performed at the Kennedy Center's Terrace Theatre in Washington, D.C., in May.
"When I was in college one of my dances was chosen to go to the Kennedy Center," Gilmour said. "There's this kind of nostalgic feeling about taking students because I went when I was a student and I loved it."
O'Brien said she and Gilmour asked the head of the dance department to allow the program to become a member of the ACDFA. With the membership and a grant from the School of Health Sciences and Human Performance, dancers from the college were able to afford traveling to the festival.
Sophomore acting major John Gardner said attending the festival will give him an opportunity to learn more about dance.
"I'm excited to be in a place with so many talented dancers and get to experience everything they have to offer," he said. "I'm also really excited for all the dance classes we're going to get to take."
The dancers will present three routines at the conference. Gilmour choreographed a piece that is in the running for the final selection. She said the dance "Nothing but the Sky" is in honor of her friend Ngawang Sangdrol and 13 Tibetan nuns who recorded songs and poems of protest while inside Drapchi prison in Lhasa, Tibet.
One of the other dances features junior Shaina Ung and is choreographed by O'Brien. O'Brien said she got the idea for a cat-like solo from playing around with movements that reminded her of feline characteristics.
"It was my first time working with Shaina, and she picks up so fast that the piece came together very fast," O'Brien said. "It's very inspiring, and she is inspiring too."
Ung said the performers at the college and the professors are motivation to become stronger and better at dancing.
"It's amazing how much dance talent is here," she said. "There are more and more people that find an interest in dance once they come here. The teachers are very encouraging and really get you into it."
The conference will also offer a variety of master classes that participants can take. The classes range from hip-hop to ballet to Butoh — a Japanese style of dance that is a response to World War II. Gilmour is teaching a contemporary dance class at the festival. Participants will spend the weekend taking classes at Mercyhurst College. Then they will perform on Monday. Ung said she is excited to spend a weekend devoted to dance.
"It's not our goal to go and win," Ung said. "We'd love to, but at the same time I'm excited to go and take these random classes and have a weekend full of the [dance] culture."
Senior Abbey Wills said attending the conference is more about learning than competing.
"I'm always inspired watching other dancers perform," she said. "I love being able to interact with people from other places that love the same thing I love, so we all have something in common. And it's not very competitive, it's more curiosity and experiential."
Gardner said the students attending the festival are excited to try new dance classes.
"There's a bunch of options, so I think most of us are going to take off-the-wall classes with some great teachers," he said.
O'Brien said the dance community at the college is growing stronger and the department is producing higher-caliber dancers.
"It is intensified and growing," she said. "It's nice to see how the energy is increasing, and it's really buzzing. It's a really supportive group between the students, and it's just really energetic right now."