Before Johnny Russo ever fell in love with a woman, music stole his heart. Growing up in Geneva, N.Y., Russo picked up the trombone at age 6 and was smitten by age 11.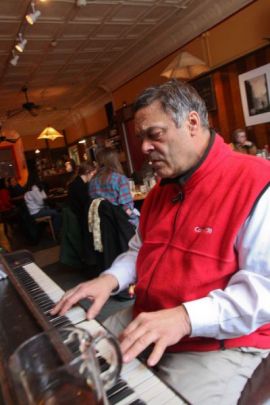 "I went after it in a big way — nobody forced me to practice," Russo said. "They might have even said, 'Don't practice so much.'"
Russo first became acquainted with Ithaca in 1957 when the 13-year-old was invited by his elementary school teacher to play trombone for an Ithaca College music class. At this time the college was still a building on The Commons.
"When I saw Ithaca I said, 'Boy, this is a really special place,'" Russo said. "'I'd like to come to school here, and I'd like to live here.'"
Since then, Russo has made a name for himself in the community. After 30 years of playing in restaurants, at festivals and teaching young and old musicians, Russo has become the go-to man for musical entertainment in Ithaca.
Russo was unable to attend Ithaca College for financial reasons. He accepted a full scholarship to the Eastman School of Music in Rochester, N.Y., and began his life outside Ithaca's reach. He graduated in 1966 and enlisted in the military. In his four years of service, Russo participated in the military band and found a greater appreciation for life.
It took 20 years for Russo to return to the city he had fallen for in 1957. When his military stint ended in 1970, he turned to music. Russo wanted to prove that he could make a living off of being a jazz musician.
"In order to make a living as a jazz musician you need to be in New York City or Chicago or Los Angeles — places like that," he said. "I didn't like the way the big cities were going, and they were heading down."
Russo plays regularly at Ithaca's Winter Farmer's Market in the Women's Community Building, but before he became a local hit he played everywhere from Carnegie Hall in New York City to Taughannock Falls State Park.
At 33, Russo moved to Ithaca and in six years had developed his own business as a musician. Dinner hours at Ruloff's restaurant at Cornell University brought him in contact with Cornell students, and most prominently, Cornell fraternities. He got offers to play for fraternities. Then his business grew by word of mouth among faculty, giving him the opportunity to play at town events like retirement parties and weddings.
Brian Earle has been playing clarinet with Russo since the 1970s. He said Russo's talent is something that comes from both his natural abilities and his knowledge of music.
"John has a really deep love of music and the material that he does," Earle said. "He studies it. He goes to the library. He researches it. He's somewhat of a historical expert."
Russo said building a successful music career in the area of one's choice is certainly not without complication or merit.
"You can't go to another small town and see something like this — it's a magical place," he said.
Earle said he discovered the depths of Russo's musical passion one day after the two were collecting firewood. Russo walked into the damp basement of his home, went up to an old, almost broken-down piano and began to play.
"After doing all this lumberjack work, he [had] such a tenderness for this beautiful material," Earle said.
Russo founded the East Hill Classic Jazz Band in 1981 and has been its director for three decades. The band has produced a series of CDs and has incorporated other local artists.
Sally Ramirez, a vocalist who started playing with Russo when she moved to Ithaca two years ago, said working with Russo has shown her another side of dedication.
"He's very passionate about his work," she said. "He gets really excited and wants to do the best job possible."
That's not to mention how his personality keeps listeners hooked.
"He's always very debonair and very warm with the audience," Ramirez said. "People really like Johnny and like when he plays and just his whole persona is very warm and endearing."
The East Hill Classic Jazz Band's newest CD, "All Original … Johnny Russo," is a collection of works from the past three decades and is now available in the Ithaca College bookstore.
Throughout his career as a full-time musician and band director, Russo has developed a specific musical style that depends less on technical ability and relies more on what people can understand and appreciate.
His audience-focused style is supported by an intense passion for his craft. With dark brown hair, thick eyebrows and a charming grandfatherly voice that sparks with excitement, it seems Russo won't forget his first love.
"I don't have any 'American Idol' ideas," he said. "I'm just happy to have the opportunity to play so much music in a small community within 10 blocks of where I live."