While some students stumble home after a Friday or Saturday night out, others are working into the early hours of the weekend. In the second installment of the "A Night in the Life" series, Assistant Accent Editor Whitney Faber explores what it's like to spin the latest hip-hop and dance beats at Moonshadow Tavern on Saturday nights.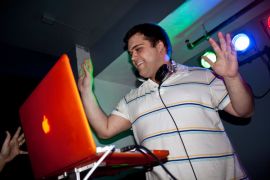 As heavy bass beats pulse through the stage and into his sneakers, senior Peter Bolanis focuses on the controls on his laptop and the shifting lights on his mixing board — he's ready to make his crowd sweat.
But it's 9:30 p.m. on a Saturday, and Bolanis is alone on the dance floor at Moonshadow Tavern.
He knows, though, it won't be that way much longer.
Bolanis, also known as DJ Emerson, spends every Saturday night at Moonshadow Tavern on The Commons watching as the number of people grows from a modest few to large mass by midnight.
"No one likes to be the first person on the dance floor," Bolanis says. "So once people get a bit more alcohol in their system, they're a bit more easygoing. Then my job gets a bit easier."
Bolanis' music is mostly just the background track for conversations at
10:35 p.m., except for one 21-year-old man who is already breaking out a few moves at the edge of the dance floor.
Quick and confident, as Bolanis changes the song to Michael Jackson's "Black or White," the man whips his body into full Jackson mode. He points his finger to the ceiling and grabs his crotch. He does a fast and slightly shaky moonwalk before rejoining his group of friends who shake their heads and laugh at him.
This tribute to Jackson doesn't faze Bolanis, who stays focused on the music, bobbing his head with the beat.
As more people shuffle in, they notice something different at Moonies this Saturday — there is now a separate room for dancing. Manager Brad Benjamin said the renovations started because of complaints that the bar got too packed late at night.
"Before, [patrons] would dance right in front of the door," Bolanis said. "When you first walk into the bar, you would just hit this wall of people. Now that the dance floor is in another room, people can come in and get their drinks and actually talk to one another."
Plans to renovate the bar began a year ago and ended with the final stage of the construction finishing last Wednesday.
Bolanis said adding an entire space dedicated to dancing brings a new strength to the bar.
"I love that we have a whole room for dancing," he said. "It's a lot more dynamic. We can fit more people in here, and people can enjoy themselves dancing."
Bolanis chooses another dance tune, and Lady Gaga's "Paparazzi" blasts through the bar. By this time, three women have found enough courage to strut onto the floor. One tall brunette steps out from the small circle. She commands a large part of the floor, shimmying to the music.
Approaching Bolanis, she says, "Can you play Usher or T-Pain or T.I.?"
Bolanis nods in acknowledgement and turns back to his laptop.
This is not a rare occurrence for Bolanis, who often has people stumbling up to the booth spouting out song requests. He said whether he plays the requests depends on the people.
"It's all in reading the crowd, reading people's faces and knowing what they really want to hear," he said. "Because when you DJ you don't play music for you, you play music for other people."
Bolanis has had a lot of time to learn how to read the crowd, especially at Moonies, as he has been a regular DJ there for a year. Benjamin saw Bolanis perform at the Mr. and Ms. Ithaca competition last year and wanted him to join the Moonies family. Benjamin said he was most intrigued by how popular he was with Ithaca College students.
"We wanted someone from Ithaca College, because we see ourselves as an Ithaca College bar," he said.
Benjamin said he trusts Bolanis to keep everyone upbeat and dancing on the floor.
"He has a big responsibility up there," he said. "It's really up to him to keep the energy high and make sure people have a good time."
Bolanis looks out at a sea of people now dancing at 12:30 a.m. On the sweaty and tightly packed dance floor, people breathe in the thick, sticky air. Exhilarated in the atmosphere, everyone bumps up next to each other and raises their hands singing along to LMFAO's "Shots." Even Bolanis catches some of the intoxicating atmosphere and throws his arms up, waving them to the beat.
His only deviation from focus is when he leans over to talk and laugh with friend Antoine Shaw.
Shaw, an Ithaca resident who often sits next to Bolanis while he is DJing, said he likes how Bolanis has fun with the job and keeps the mood light.
"With Peter, it's more like what he really loves and enjoys," Shaw said. "That's why I hang around him a lot, because he enjoys what he does."
Being a regular DJ at Moonies isn't always as glamorous as it seems. Bolanis spends most of his weekends creating the party for others, rather than being a part of it.
"There are times I think, 'Wow, I really don't go out that much,'" he said. "But I have always been the kind of person that if people are having fun around me, I feed off of that."