Nine bands will be duking it out Tuesday in Emerson Suites to claim the opening slot for Yeasayer, Man Man and The Antlers at the Bureau of Concerts' end-of-the-year show May 7. The battle of the bands — which includes at least one student in each band — will give these bands the chance to show the campus how much stage presence they really have. Staff Writer Jared Dionne spoke with members of six of the bands about what it would mean to them to win the competition.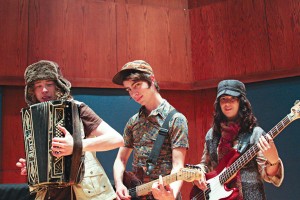 Glad Rags
Senior Matt Lesko, guitarist and lead vocalist for Glad Rags, said the band's sound is a mixture of punk and Gypsy-jazz. Though he said he doesn't want to sound like a gimmick, the band enjoys its earthy vibe. He said he thinks Glad Rags would be a great choice to open for Yeasayer, Man Man and The Antlers because the band fits the same mold.
"There's something really, really gritty about Man Man that we channel to the best of our ability," he said. "It would be a good match."
Sean Michael
Senior Sean Stolar, who goes by "Sean Michael" onstage, has had a passion for R&B since he was young. He saw Earth, Wind & Fire when he was 10 and claims he is a huge pop fan. His sound is rooted in funk and R&B.
"I'm a real funkster," he said. "I eat, sleep and breathe this music. If I die tomorrow, I would be OK because I'm actually doing exactly what I've always wanted to do right now — regardless of where this goes."
We've Got It Covered
Senior Sam Freund, drummer for We've Got It Covered, said the band loves to play covers. He said the point of the band is to play rock music everyone can sing along to. At the performance, Freund said he hopes the audience will enjoy themselves.
"We don't really plan on blowing peoples' minds with our musical abilities," he said. "We just want them to enjoy the couple minutes that they spend watching us."
Beat the Grid
Beat the Grid has been going in a funk and soul direction lately, junior Hayden Eager, a vocalist for the band, said. Eager said she hopes the audience can follow and enjoy Beat the Grid's ethereal and spacey vibe.
"When we get lost in the music, I want them to get lost in it, [too]," she said.
No Eggs No Problem
Freshman Tommy McAree said No Eggs No Problem is an acoustic hip-hop band that focuses on drums, guitar and his rapping abilities. McAree said writing songs for the group is difficult when everyone is busy studying.
"As far as writing our own music, it's pretty hard," he said. "It's hard to find time to play music, but it's still a pretty good environment for creativity."
I Do Not Love
Senior Gregory Miller likes to go by "I Do Not Love" onstage. His music, he said, can sometimes confuse people.
"My mother sometimes asks me why it sounds like someone dying," he said. "But in terms of my own personal description, or in terms of genre, [my sound is] maybe shoegaze or darkwave."
He said he hopes his performance will open new doors.
"If I were to win, it would certainly be nice to get the exposure and to meet artists that are quite talented," he said.
Other bands to check out
Tropical Funk
A three-piece funk band, according to its Web site, that is inspired by the sounds and feel of the beach.
Miracle of Madness
A three-piece alternative-indie rock band that plays at concerts and events in the Ithaca community, according to its Web site.
TFFNI
An edgy rock band, according to its Web site, that will be playing as a solo act at the battle of the bands Tuesday.
*These bands could not be reached for comment.