The honors program at Ithaca College is expanding internationally with the addition of a full honors semester at the Ithaca College London Center and new seminars to be offered in the fall.
The London Honors Semester will begin  in fall 2010 and will include a three-credit honors seminar and travel component to the Edinburgh Fringe Festival in Scotland.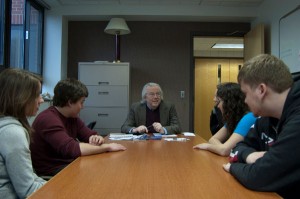 Bob Sullivan, associate professor of speech communication and director of the honors program, said the addition of the honors seminar "London as Text" — named after a nationwide collegiate course program titled "Place as Text" — paired with the trip to Scotland will allow for honors students to become more engaged in the city.
"[The seminar] is meant to immerse participants in guided explorations of complex human phenomena and institutions, where they inform themselves in advance, observe the places through a variety of lenses, and then report on them through a similarly great variety of expositional genres," he said. "We see the participation in the Fringe Festival as an important academic experience and enhancement of the London honors semester."
Students will travel to Scotland one week prior to the beginning of the fall semester to attend  the  Edinburgh Fringe Festival, the world's largest art festival. The honors program will cover the cost of transportation to and from London as well as accommodations in Edinburgh.
Honors students will also enroll in humanities courses offered at the London Center such as Shakespeare, The London Theatre and Modern British History.
The London Honors Semester is the newest addition to a broader expansion that began two years ago when students from outside the School for Humanities and Sciences were able to apply for the honors program. Admission to the program is based on a personal statement, writing sample, academic achievement and letter of recommendation.
To gradually expand, the honors program started increasing incoming students in increments of 20 each year. Sullivan said by fall 2012 the once 120-member program will turn into a 400-member program comprised of 100-member cohorts in each class year. There are 250 students currently in the program.
Sullivan said the expansion was put into place in order to make the program less exclusive to address the fact that many capable students from other schools were previously left out.
"That was long thought to be a negative aspect of the program," he said. "We didn't want it to be that way. There was always a hope that we could expand the program first of all to include students from other schools and secondly to grow it to fill the full demand for it."
Senior Katie Wright, an honors advisory board member, said students from outside the School of Humanities and Sciences will find the new program more feasible to work into their schedules.
"[The program] used to be a 25-credit minor, but they dropped it down from 25 to 19 to accommodate people with very hectic schedules," she said. "Now we have room for PT, OT, music majors [and] people who have a very full schedule and room for only one set of minor courses."
The addition of honors one-credit courses started this spring and will continue to be offered. Students who enroll for next fall's one-credit course, Experiencing Teatro, will stage a play chosen from Spanish, Latin American, or "U.S.-Latino Spanglish" traditions.
Eight all-new seminars will also be available next fall including a course focusing on studying the writing of Kiran Nagarkar, an Indian writer, to be taught by the writer himself.
Sophomore piano performance major and honors student Jason Gallagher said the option to take one-credit courses lightened his workload.
"Sometimes I felt like I couldn't get the full experience that I wanted out of the [honors] seminar because I had to spend so much time doing other stuff," he said. "I would have liked to put more focus into [the seminar]."
More courses have been added to the program, as well, so that by fall 2010, 15 honors seminars will be available as opposed to four, the number offered before the start of
the expansion. Another will focus on analyzing the first season of TV show "The Wire," which focused on Baltimore's drug trade.
Since starting the transformation to an all-college honors program, Sullivan said the student makeup of majors enrolled in the seminars is more diversified, which is rare in other courses.
"[In an honors seminar] you're going to be sitting next to a biochemist, next to a BFA actress, next to a journalism major, next to a physical therapist, next to a bassoonist, so that the kinds of things that people are encountering in the seminars is going to become more rich because the variety of students is more rich," he said.