When sophomore Jimmy Newton and senior Danny Wolk were first paired last spring, nothing worked. Both players could hold the serve, but neither could break. That was until they switched sides and everything changed for the men's tennis team's No. 2 doubles tandem.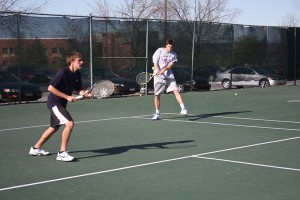 "Not clicking was kind of strange," Newton said. "I already had half a year to know everybody else, but I didn't really know Danny."
Newton, a freshman at the time of the pairing, was somewhat intimidated by Wolk, a 6-foot-4-inch junior who used to play No. 1 doubles for Ithaca. But now, the two pick each other up when one gets down.
"That's the key to winning," Wolk said. "If one person is not playing well, the other has to step up. There have been times when Jimmy has led us to victory, and I feel like there have been times when I've helped lead us to victory."
Wolk said Newton would rarely correct him when he was messing up, but they both agree that the first match where they clicked occurred in the fall season of 2009. The tandem defeated Skidmore College's No. 2 doubles team, solidifying a bond that has yet to break.
"When we are in link, we know what each other is thinking, and we feel that we can't be beat," Wolk said. "That Skidmore match really showed us that we can compete with anybody."
They are undefeated this season in dual matches, proving to be an integral part of the team's success.
Head Coach Bill Austin said their work flies under the radar in comparison to the nationally ranked No. 1 doubles tandem comprised of junior Josh Rifkin and senior Taylor Borda.
"[Newton and Wolk] are No. 2 because they're playing behind one of the top doubles teams in the country," Austin said. "They're practicing against them and going hard, but they're pushing each other to better and better levels."
Newton and Wolk said they have two goals this season: to be undefeated and beat Borda and Rifkin. They have yet to defeat Borda and Rifkin, but they say they have come close on multiple occasions during practice.
"They always bring it because they don't want to lose to us," Wolk said. "We lose so much [to Borda and Rifkin] that you would think our confidence would be lower. Then we always say to each other, 'Don't worry, the team we're going to play doesn't return like Josh and Taylor.'"
The symbiotic relationship between the two tandems allows for the pressure to ease.
"They push us, but knowing that there is a strong two doubles behind us that could play first doubles at a lot of places is huge," Rifkin said. "We know they're going to do their part, and they have the same feeling for us."
The Bombers routinely begin each match winning two of their three doubles matches, giving them at least a 2–1 lead heading into singles.
"It eases pressure on the whole entire team," Newton said. "Our one and two doubles are so strong that we're confident we can get two points right away."
Now with Empire 8 competition well under way, Newton and Wolk are setting their sights high with almost a year of experience playing together.
"We've got the chemistry down now," Wolk said. "We have fun now. We do our own little handshake from Rocket Power. We call each other 'babes.' That's different from last year. Now we've got a flow going. We know we can beat any team. We expect to win and we do."