Latino freshman Melissa Cepeda came to Ithaca College feeling lost without a place to celebrate her heritage. She knew she had to create a Latino student association on campus to fill this void.
"I felt there was a need for a club like this on campus because we are able to hold not only social events but political events as well," Cepeda said. "I want Poder to be a place Latino students can call home."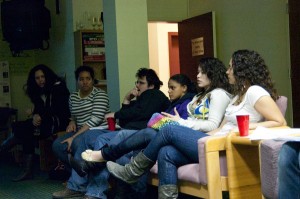 There have been many student efforts in the past to create a Latino association, but most attempts have failed. It wasn't until this year, when the freshman and her friends started to create an outlet for Latino students on campus.
There are 295 Hispanic students and about 1,000 students who identify as unkown at the college this year, according to the Institute of Research.
Cepeda said she thought Poder was necessary for the Latino community at the college.
After many suggestions for names, Cepeda settled on Poder: Latino Student Association. Meaning "power" in Spanish, Poder was the perfect representation for this new campus organization that began in December, Cepeda said.
The club now meets at 7 p.m. every other Thursday in the African-Latino Society room in the West Tower lobby.
Patricia Rodriguez, a graduate student in the Park School of Communications and vice president of Poder, said even though there is an African-Latino Society on campus, there is always room for more
minority clubs.
"ALS is a great organization for both the African and Latino communities, but we feel that the more minority organizations there are on campus, the more we can collaborate and celebrate culture," she said.
Cepeda said she believes Poder should be not only a social club for Latinos, but also a forum to educate Latino students and allow them to voice their concerns.
"Our first meeting was just to let everyone get to know us," Cepeda said. "We spoke about Latino students in college and the retention rates associated with them."
Freshman Eva María Touré, the community service chair of Poder, said she felt there was a definite need for a Latino organization at the college. She said she was excited to join Poder and knew the club would be a perfect addition to campus.
"You could see people's faces at the first meeting we had, and many people didn't know there was this many Latinos on campus," Touré said. "It's not a big number, but it's good enough so we can be together and be comfortable at Ithaca College."
Rodriguez said there was a void that needed to be filled for the Latino community on campus.
"Latinos need more representation on campus, and we need our issues to be out there," Rodriguez said.
Though Poder is just beginning, the club has demonstrated its promise of longevity with its commitment to Latino development on campus, Cepeda said.
In February, Poder tried to educate people on Latino culture at its social event Bienvenidos in the ALS room with games, music and traditional Latino dances.
Poder members also focus on different issues pertaining to Latino youth. At its general body meeting March 11, the club discussed the DREAM Act — which stands for Development Relief and Education for Alien Minors — an act that fights for the right of children of immigrants to attend college.
Rodriguez said the DREAM Act may not directly affect the college, but it affects the Latino community across the country.
"It's not that it affects us as individuals, but we're more concerned with the immigrant population overall, and we know that it is affecting the Latino community nationwide, and we want to incite change in that," she said.
Poder members are committed to making the group a platform for community service outreach initiatives, according to Cepeda. They started by promoting Haitian and Chilean relief efforts by coordinating a meal sign-away program in March.
Touré said she wants to use her role to make Poder more of a presence in the Ithaca community.
"I want to focus on the people who are in the city of Ithaca and gear our events towards them," Touré said. "There are a lot of farms 20 minutes from here where there are Spanish immigrants working, so we would like to do something with them."
In April, Poder plans on sending representatives to the Dominican Student Conference at Cornell University. This May, the club also plans to participate in the Annual Immigrants Rights Walk located in downtown Ithaca.
Rodriguez said she hopes the club will remain active.
"I've been here for four years and thought it was a really good idea, and I would like to see it progress and continue to grow even after I leave," she said.