As a Massachusetts native, Patriots' Day, otherwise known as Marathon Monday, is one of the most important days of the year. Schools and businesses close and streets are blocked off across the region as Bostonians crowd the course to catch a glimpse of the athletes.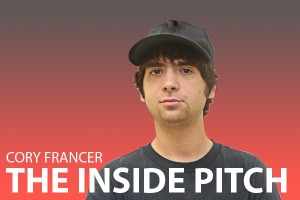 Being away from Boston the past four years, I've been forced to catch only brief glimpses on TV of the world's most famous marathon and the other events that go along with the day.
It was always a favorite tradition of mine to get tickets to the Red Sox game — the only morning start time of the season — that Monday with my dad and rush out of the gates at the end of the game to see the runners pass through Kenmore Square.
Though I haven't been in Boston for the marathon in years, it still amazes me how many great stories of human triumph appear every year. The biggest headline this year came from Robert Kiprono Cheruiyot obliterating the course record with a jaw-dropping time of 2:05:52. Strangely enough, he was not the first Kenyan named Robert K. Cheruiyot to win the race, as unrelated Robert Kipkoech Cheruiyot is a four-time winner.
But the marathon has never really been about who comes in first. Instead, what has always really mattered are the stories of people overcoming what seems like insurmountable odds to complete the 26-mile course.
It's impossible to miss the father-son tandem of Dick and Rick Hoyt who have now run 28 marathons together. Rick has suffered from cerebral palsy his entire life and is still able to compete in marathons all over the world by having Dick push him the whole way in a wheelchair. The sight of them still completing the marathon together is one of the most heartwarming in all of sports.
South African Ernst Van Dyk won his record ninth Boston marathon for men's wheelchair. Van Dyk, born without legs, truly proves that it is possible to overcome one of life's biggest challenges, holding the course record in Boston. He has also earned wins in the New York City and Los Angeles marathons.
Similarly to Team Hoyt, Team Noah is now making waves in the marathon community, participating in the race to benefit the Noah's Ark foundation, which aims to improve the lives of disabled adults. Linda Zack pushed her 31-year-old son Noah in a wheelchair for all 26 miles of the race, showing just how important Noah's cause is.
Clearly, Marathon Monday means a great deal more than getting out of school and watching a daytime Red Sox game. The 114-year-old race through Boston is one of the most important and inspiring sporting events we have.
Cory Francer is a senior sport studies major. Contact him at [email protected].