A lacrosse ball sits on the white chalk line in the middle of the field. Two netted pockets of lacrosse sticks sit just a few blades of grass away on either side, waiting for a whistle.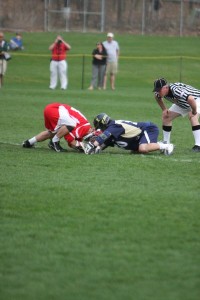 Senior Nick Neuman gets into his familiar stance — his nose now inches above the ball. Stillness and silence turn into a blur of jersey cloth and silver flashes of metal, and dirt jumps into the air, all accompanied by the brief crack of colliding sticks before Neuman comes away with the ball.
Much like hockey, there is no alternating possession in lacrosse, meaning faceoffs happen repeatedly throughout the game. If good enough, a team can hold the ball for minutes by simply scoring and winning the faceoff.
"By winning faceoffs, we control the ball and time of possession, but more importantly, pace of the game," senior Roniel Bencosme said.
Looking at the box score of the winner of the most faceoffs after a game will usually determine whether or not Ithaca, known for its fast-paced style of play, was victorious. Year after year, the Bombers can attribute much of their success to top-of-the-line faceoff athletes.
This season, the go-to guy is Neuman, who won 18 faceoffs in Ithaca's victories over Elmira College and Hartwick College, while each opposing team was held to less than 10 in the process. That kind of ball control allows the Bombers to keep the ball away from opponents, which limits shots on goal as well.
"Having possession of the ball is going to really drain any team when we can pretty much go make it, take it on scoring goals," Neuman said.
In each of the team's Empire 8 wins, it won in faceoffs as well, showing the importance of having someone like Neuman to handle that responsibility. It is his first year as the primary faceoff athlete, and he attributes three years of learning to his success today.
"I was lucky enough to play under some really great guys the first few years," he said. "I tried to absorb as much as I could. That's helped me to learn a variety of techniques. No matter who I go against I can usually figure something out."
Yet, the talent does not stop at Neuman. If Neuman struggles, junior Michael Hennessy, who was a 2009 Second Team All-Empire 8 selection as a faceoff specialist, can step in without missing a beat. Sophomore Brian DiBetta has also made an impact at the position, going 13–29 this season.
"It's good having Neuman out there as a captain and a leader to get those extra possessions," sophomore Andrew Bruce said. "But the other faceoff guys all bring something a little different to the table as well, so if we really need to get one in a certain spot, they can come in and get the job done."
Ithaca has steadily improved in the category. Early on, teams successfully slowed the Bombers down, but now, late in the season, Ithaca has established its rhythm. By winning more faceoffs, wing players like sophomore Nick Munn are cashing in, getting more chances with the ball. Munn scored his first two goals of the season at Elmira last week.
That translates to the Blue and Gold now controlling their own destiny for the rest of the season.
"It could've turned ugly, but we stuck together and figured it out," Neuman said. "We have confidence knowing that if we win the next two games, we can keep playing and not have to do any 'what if' analysis."
If the Bombers are successful, potential rematches with Nazareth College and St. John Fisher College are possible, which provides for some extra motivation as well.
The main goal for the team in the final stretch of the season will be defending the center circle, where in tight matchups, the game is won and lost.