Entering its 2010 spring campaign, the men's tennis team had one goal: win the Empire 8 tournament. Currently undefeated in conference, the Blue and Gold stand poised to make a run for their second consecutive conference title and third title in four years.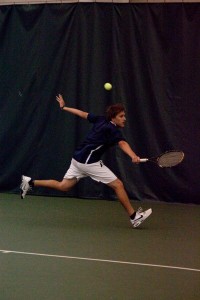 Before attaining that goal, the team knows that one major obstacle stands in the way — Stevens Institute of Technology.
Ithaca and Stevens have met up in the finals of the conference tournament for three straight years and all signs point toward a fourth consecutive rematch. As the perennial powerhouses of the Empire 8, Ithaca and Stevens are currently on top of the standings in conference play.
Earlier in the season, the two squads met up in Ithaca where the Bombers narrowly edged Stevens 5–4 in a match that came down to just a couple of points.
"That win feels good, and it gives us confidence knowing that we can beat them," junior Josh Rifkin said. "They're not going to want to lose. They're going to bring it, and it's not like we can just let up because we beat them already. It gives us confidence, but at the same time, we need to keep our intensity high, or it's not going to get any easier even with that win."
Senior Taylor Borda, who faced match point multiple times before winning his singles match against Stevens earlier in the season, said that the inevitable matchup between the two squads in the postseason will rival the intensity of the first match.
"Every match, singles and doubles, is going to be really close and really competitive and really evenly matched," Borda said. "We're going to have to come out and play [with] the same intensity and will to win when it was at home."
A will to win is something the Bombers have not lacked all season. After their team-bonding experience in Hilton Head, S.C., in March, the Bombers have yet to lose a match in the months of March and April.
Before the Empire 8 tournament, the Bombers must take care of business in their remaining conference matches. The South Hill squad has not lost more than two matches in a match against an Empire 8 opponent excluding the Stevens match.
"As a team, knowing our potential, we need to take out these teams and make statements and show that we should be looked out for," Rifkin said. "People should know Ithaca is dominant in the E8s."
For Borda, a senior captain playing in his final year as a Bomber, this season means everything to him.
"This is obviously the best Stevens team we've ever played ability-wise, so to beat them in my senior year in the finals of the Empire 8 would be a great way to cap my collegiate career," Borda, the winningest men's tennis player in the history of the college, said.
Barring any unforeseen circumstances, Rifkin and Borda agree that Ithaca and Stevens will meet up in the finals.
Head Coach Bill Austin said the players must stay on top of schoolwork as the semester wraps up so they can come to the courts with a clear head.
"We've got to stay healthy, and we have to stay focused," he said.
The South Hill squad is as focused as it has been all year, eager to square off with its conference rival. Rifkin said the whole squad is ecstatic.
"We're relishing in the moment that we beat Stevens," he said. "We're getting hyped up for the tournament. It's very exciting, and we're all looking forward to it."