A not-so-new "miracle drug" is getting increased attention from Poughkeepsie to Plattsburgh, from Brooklyn to Buffalo.
The debate surrounding the legality of medical marijuana is shifting from the basements of teenagers and the booking rooms of police stations to the bedsides of cancer patients and the floors of legislative halls.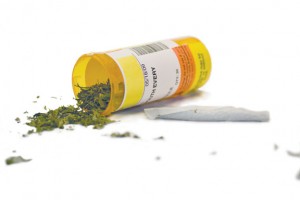 Results from the 2010 Empire State Poll, an annual lifestyle survey conducted by Cornell University, showed that more than six in 10 New Yorkers support legalizing marijuana for medicinal use.
The poll, conducted by a random telephone sample of 400 upstate and 400 downstate residents ages 18 and older, showed neither age, gender or race played a major factor in support levels. All subcategories had more than 50 percent support.
Yasamin Miller, director of the Cornell Survey Research Institute, said for some New Yorkers, the legalization debate is not an important topic.
"There are so many other pressing issues that New Yorkers think that it's not worth the effort to criminalize it," she said.
Support levels are also relatively the same — 67 percent and 62 percent, respectively — in terms of upstate and downstate New York residents. The poll also found that as annual household income increases, support level also increases.
"[New Yorkers] realize [medicinal marijuana] could be a real benefit to those patients who are in pain," Miller said.
Currently, 14 states and the District of Columbia have legalized medical marijuana. Studies have shown medicinal cannabis to alleviate physical pain and induce hunger for patients suffering from, most notably, AIDS, glaucoma and cancer.
Miller, who oversees the institute that conducts the survey, said there is a possibility of over-hyping medicinal marijuana's capabilities.
"The research out there is mixed, and I am not sure we can say that support will remain positive and increase," Miller said. "We have seen miracle drugs in the past, but when there has been enough research on them they have found they are actually harmful."
Miller said she is skeptical of a full legalization effort being possible in New York.
"I don't think there is the same stigma when it comes to marijuana legalization as a drug of leisure when compared to its medicinal uses," she said.
Along the political spectrum, 49 percent of "conservatives" expressed support for legalization, while 63 percent of "moderates" and 79 percent of "liberals" expressed support.
Junior Evan Nison, president of the college's chapter of Students for Sensible Drug Policy, said it's a lack of courage and leadership in state legislators that prevents legal marijuana law reform.
"A lot of legislators in New York are nervous about becoming another California and are not willing to make the political risk," Nison said. "But people are starting to realize that cannabis is a true medicine."
Nison is currently in California lobbying students and residents to adopt Proposition 19 — a full legalization of marijuana, allowing
local municipalities to regulate, control and tax marijuana use — this November. He previously worked as a lobbyist for New Jersey's medical marijuana reform.
"California has realized that marijuana is not worth the enforcing expense, and the state should be out there collecting revenue from it," he said.
California was one of the first states to decriminalize marijuana and legalize medical marijuana. This most recent drug policy reform attempt will allow individuals older than 21 to grow, use and transport marijuana for personal use.
With a successful outcome, Nison said,  Proposition 19's passage will impact legalization movements in other states and even other countries. Supporters of the reform cite that the new laws could potentially bring in billions of dollars to California's economy, according to the proposition.
"I don't think it is going to have an effect in just other states but also other countries," Nison said. "California is the eighth largest economy in the world, and it is going to have a major global economic impact."
New York State Senator George Winner, R-Elmira, said in a statement there are still some angles of the debate to consider.
"There remains legitimate concerns about a widespread legalization initiative — how it would be implemented, the effectiveness of oversight and safeguards to prevent abuses and misuse and its overall impact on public health and safety," he said.
Though marijuana reform has become a hot topic in many states, New York legislators have not made much progress.
New York State Assembly bill A.07542 was introduced in April 2009 to legalize the "possession, manufacture, use, delivery, transfer, transport or administration of marijuana by a certified patient or designated caregiver," according to the bill.
Assemblywoman Barbara Lifton, D-Ithaca, could not be reached for a comment but remains listed as a co-sponsor of the gridlocked bill. Because of the lack of sponsors in the New York State Senate, the bill has stalled in any legislative advancement.
Several activist groups have, despite legislative inaction, continued their pursuit to reform New York state drug policies, in both medicinal and recreational form.
Rev. Jay Goldstein, executive director of the Empire State National Organization for Reform of Marijuana Laws, said his group has always worked toward the legalization of marijuana in more than just medical aspects.
"Our mission is to work for the legalization of marijuana use for all responsible adults," Goldstein said. "We certainly believe that includes medical patients. I've met many patients with doctors who feel [the patients] need medical marijuana."
Currently, New York state is one out of 13 states that have decriminalized small amounts of marijuana. If found with less than 25 grams of marijuana, a person in New York state will only face a civil citation, similar to a parking ticket.
Goldstein said current decriminalization laws and legislative pushes will eventually lead to more comprehensive legalization reforms.
Whether New York state will follow the other states that have legalized medicinal cannabis is yet to be determined, and whether medicinal legalization will lead to further reform of recreational use could spark debate across the country with Proposition 19's fate.
"There is definitely going to be some change … and I hope [state governments] get it right when it comes to setting up regulations," Goldstein said.