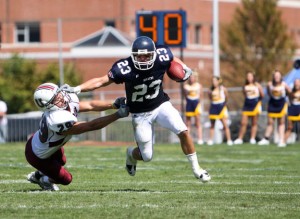 Graduate student captain and strong safety Dave Ahonen, senior captain and tight end Dan Higgins, senior captains and wide receivers Dan Ruffrage and Tom Vossler, junior corner back Spence White, sophomore quarterback Jason Hendel and junior safety Kevin Cline all returned to the Bombers' lineup.
The defense got a boost from White and Ahonen,  who both made significant contributions in their return. White sealed the game in the fourth quarter with an interception that ended the Union comeback.
White said getting back on the field was important in helping the team succeed.
"It was great to get back on the field and make plays again," White said. "It's been a long offseason and to make a game ending play in my first game back really means a lot."
Ahonen, who contributed two tackles — including one for a loss — and a pass deflection in the red zone, added depth and leadership to a Bombers' defense that held Union to just two of 13 on third down conversions.
Head Coach Mike Welch said having Ahonen and White back on the field creates better matchups for the defense.
"The defense is really playing well right now," Welch said. "Getting those guys back … allows us to match guys up and put them in a position to succeed defensively."
Senior quarterback Rob Zappia said the offense benefited from Vossler, Ruffrage and Higgins' returns in the passing game.
"It was nice having some playmakers back," Zappia said. "I really feel comfortable playing with those guys, and it gives me a lot of confidence to know they're back on the field."
Zappia's familiarity with his fellow seniors showed against the Union defense as he completed 16 passes for 203 yards and one touchdown between Vossler, Ruffrage and Higgins.
"We really played a complete game," Zappia said. "It really gives us a boost to know we can beat a good team like Union."
Welch said Zappia is just one player who immediately benefited from the returning players.
"[Zappia] has been in our system and practiced with those guys for three years," Welch said. "So he has a comfort level and connection with those players that he doesn't have with some of the younger guys."
Vossler set the tone through the air offensively for the Bombers, recording a game-high eight catches for 104 yards and two touchdowns. Vossler said it was important for the offense to see what it is capable of at full strength.
"It's nice to see all the hard work that we as a team put in at practice finally pay off with results," Vossler said.
Vossler's second touchdown catch of the game gave him 100 catches for his career, making him just the seventh Bomber to hit that milestone.
Welch said the return of the seven players solidifies the team's lineup but doesn't necessarily lock them in as starters as the season progresses.
"Getting the players back has made practices even more competitive," Welch said. "Now that some of the younger guys have gotten that playing time they're eager to keep it, and it's pushed the older players to keep working hard to hold onto those positions."