To better assess employee satisfaction and to weigh its strengths as a collegiate employer, Ithaca College tested itself by participating in the Chronicle of Higher Education's 2010 "Great Colleges to Work For" survey. When the results were announced, the college was not included on the final list of great colleges to work for.
College administration, faculty and staff members took the survey in March and April, and Mark Coldren, associate vice president of human resources, received the survey results Sept. 7.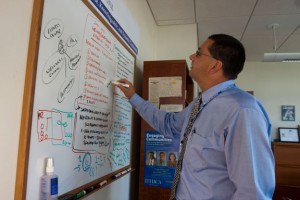 President Tom Rochon, who was in communication with Coldren during the survey process, said the specific results will not be released to the public.
"They will be used to inform our initiatives with respect to all employees at the college," Rochon said.
The survey assessed colleges with a questionnaire concerning characteristics of their school and another questionnaire on individual's evaluations of their respective workplaces.
Methodology of the survey was based on feedback from a panel of higher education experts. The panel's suggestions were used to customize the survey to reflect issues specific to colleges, according to the Chronicle.
The results from the two assessments were combined into 12 recognition categories that focused on topics like trust in leadership, general work life conditions and teaching-specific areas.
Rochon said this particular survey stood out to him because responses could be measured alongside other schools.
"Although colleges can be very diverse in size and working conditions, [this] benchmark makes much more sense than the usual benchmark that you get against employees working in a business or industry setting," Rochon said.
In spring 2005 Suzanne Forsyth Associates conducted a Quality of Work Life study at the college.
Through this study, the consulting practice found that the college's strong points were colleague appreciation, employee benefits and a strong culture of community. The study showed the college needed improvement in management, human resources orientation and supervisor conduct, according to the Quality of Work Life Final Report.
During its three-year existence, the Great Colleges survey has grown to include 43,000 respondents and 275 institutions of higher education — 221 of them being four-year colleges. Ninety-seven colleges were recognized on the list this year.
Ayana Richardson, assistant dean for student services in the School of Business, participated in the survey and said the college was transparent about the reasoning behind the polls.
"[We] knew it was coming months before it came out, and it was simply stated [that] we need to get a baseline," she said. "We need to understand where we're at."
Of the 938 surveys issued to employees, 333 were responded to — a 36 percent response rate, Coldren said.
"If we continue to participate, I hope to do a better job with communication and marketing," Coldren said.
Stan Seltzer, Faculty Council chair and chair of the mathematics department, has worked at the college for 25 years. He did not participate in the survey, but said he has watched faculty perceptions of their jobs evolve.
"People work pretty hard here, but I don't know if we're any different than other places," he said. "What keeps a lot of faculty at it, and the staff as well, is that it's worthwhile."
A solid advantage the college has is the flexibility employees have with their positions, Seltzer said.
"If their research takes them in a different direction, then by and large they can pursue that," he said.
Cheryl Christopher, postal services assistant, knows this flexibility firsthand. She stepped out of her normal routine to start a recycling program after seeing trash build-up near the post office.
But many hourly workers who think innovatively to improve the college, like Christopher, are not included in surveys like "Great Colleges to Work For."
"I didn't actually see the study," Christopher said. "I guess they know what they're doing."
Most surveys cover administration and faculty members, but not the large percentage of staffers that keep the school running, Coldren said.
Coldren said he is unsure whether the college will participate again. Though the results of the survey are in, analysis of the findings is still to come, he said.
"It's a good step for us," he said. "I don't know exactly what we want to do with it per se, and that's part of my interest in what the campus community thinks of it."