With finance textbooks stacked in piles against the wall, a toy basketball hoop in the corner, notebooks open on the desk and a 4-foot-tall blue metal Bombers' bomb — given to the football team's defensive captain — standing at the foot of his bed, graduate student Dave Ahonen's bedroom is the perfect microcosm of his life.
As the three-year starting strong safety for the football team, third baseman on the baseball team and student in Ithaca College's Master of Business Administration program, Ahonen said he juggles the demanding routine of collegiate athletics with a rigorous academic schedule.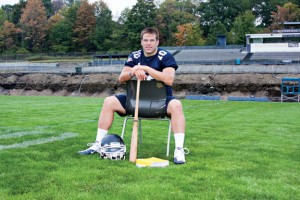 From wearing his football pants underneath sweats in class to arranging with professors to miss class time for football practice, Ahonen's daily schedule illustrates his commitment.
"I expect a high level of performance [from] myself in school as well as on the field," he said. "So I'm going to do whatever I can to get the schoolwork done to the best of my ability and do what it takes to keep my performance up on the field. If that's sacrificing here and there to get it done, then that's what it takes."
Ahonen's dedication on and off the field was acknowledged last year when he received the  James Harris award, which is given to the top multisport athlete of the college's graduating class. In addition to his athletic success, Ahonen structured his classes as a sophomore so that he was able to earn his bachelor's degree in accounting in just six semesters. Ahonen was also inducted into several honors societies in the School of Business as an undergraduate, including Beta Gamma Sigma, which recognizes the top 10 percent of business students based on their grade point average.
Growing up in Farmington, N.Y., Ahonen attended Victor Senior High School, where his grandfather, Ed Ahonen, had at one point been the athletic director. Ahonen played football, basketball and baseball in high school, competing in Class A of Section V. Ahonen said he was initially motivated by the success his mother,  father and their brothers and sisters had in the region in athletics, as well as the weight his family's name carried in the area.
"The name was there, and from an early age I understood that," Ahonen said. "I was like, 'I have a great tradition to this name, and I'm going to continue this tradition.'"
Head Football Coach Mike Welch said it's Ahonen's commitment to success that allowed him to immediately impact the college's football program as a freshman.
"He has a tremendous desire to excel, to pursue excellence in everything he does," Welch said. "He played a lot as a freshman, a lot of special teams and in our defensive backfield, and now he's going to be a three-year starter for us. He's done that because of his drive. He's got a real intrinsic drive to do well in everything he does."
With a 6-foot-1, 205-pound frame as a freshman, Ahonen saw the opportunity to make contributions on defense with safeties Charlie Stephens '08 and Ryan Terlecki '08 on the verge of graduating. Terlecki, also an accounting major as an undergraduate, said Ahonen was a recognizable leader even as a freshman.
"In practice he was always looking to understand the defense better, it wasn't only, 'Where do I have to go?' [it was], 'Why do I have to go there?''' Terlecki said. "The type of person Dave is, the type of mentality he has, he's just one of those guys who is a leader."
Despite his busy schedule as a graduate student, another time constraint Ahonen said he has had to adjust to in the past three years is making the transition to baseball in the spring and doing what he can to compensate for missing fall baseball training.
During the winter, Ahonen takes advantage of his friend University of Rochester senior outfielder Dan Ludwig's house, where there is a fully enclosed, lit and heated batting cage in the backyard.
"I actually go there and put in a lot of time because I feel guilty that playing another sport, I'm not on the field with those guys," Ahonen said. "I kind of put in the overtime during winter break to get ready for the season, and it's worked it out."
A typical day for Ahonen involves five or six rounds of 10-15 swings in the batting cage to work on hitting. He has even traveled to Rochester to work on his fielding techniques with Ludwig at the university's indoor turf facility. Ahonen has developed a practice routine that helps him ease the transition between sports and put in the hours to compensate for the time he missed, Head Baseball Coach George Valesente said.
"He works hard at taking ground balls, he works hard when we do defensive stuff and he works hard at his hitting, which shows because he's been our leading hitter for the last three years," Valesente said.
Off the field and out of the classroom, however, Ahonen appears to be your typical college student. Reclined on his couch, Ahonen talked the pros and cons of the Buffalo Bills'
offense, with a slight smile curled at the right side of his mouth and his feet propped up on the living room table Sunday afternoon.
With this being his final season in both sports, as well as his last two semesters on South Hill, Ahonen said he isn't looking forward to having to take off his jerseys for the last time. With a master's degree in professional accountancy, Ahonen wants to make a name for himself in the business world. Looking back, Ahonen said he wouldn't change anything about his collegiate career.
"I'm going to try to enjoy this as long as I can," he said. "I look back four years ago and the guys I played with, and it feels like forever ago. It's going to be a sad day, but it has to come. I'll embrace it and just know that I put everything into it. I have no regrets."