The oppressive heat didn't stop a crowd from dancing at "Rock for ROC," a benefit concert for local refugees at 9 p.m. yesterday at The Nines.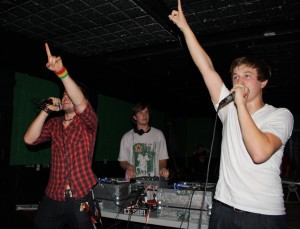 The Refugee Outreach Club (ROC) was founded by Cornell University seniors Nicole Antonuccio, Hannah McDermott, Maricela Perryman and Molly Warren at the university.
After volunteering with a group that worked with international refugees in Cairo, Egypt, McDermott said she came back to school wanting to educate others about her experiences. She also wanted to reach out to refugees from across the world currently residing in Ithaca. Local refugees have come from all over the world from countries like Burma, Haiti and Thailand, she said.
ROC hopes to become recognized in Ithaca and wants to create a larger public service group. With about nine current members, McDermott said the club aims to raise awareness about the refugee population to the Ithaca community and organized the benefit concert as their first fundraiser.
Julia Richer, a local artist, Daily opened the show with a peaceful acoustic set. A combination of unplugged cover versions of popular songs from The Postal Service and a few cuts from her original material brought audience members to circle the stage.
The crowd thickened when Steady Stage kicked up the volume with a set of high-energy, fast-paced rock tunes.
Mike Heubusch, vocalist and guitarist of Steady State said he enjoys playing at The Nines because of it's atmosphere.
"You don't have to be cool, you can come up here and dance and look dumb," he said.
Even more people left their seats to dance for Garage Mahal, a band from the university that plays covers of popular music. The set included lively covers of Led Zeppelin, The Kinks, Modest Mouse and Tommy Tutone. The crowd at the bar threw their hands up for the band's closing rendition of Miley Cyrus' "Party in the USA."
Joey Staehle, lead singer of Garage Mahal, said that the band was happy to play for a good cause.
"The show was great," Staehle said. "It was good to be playing for a good cause; it really adds to the show."
DJ and rapper Dylan Owen finished the two-hour show with his own beats, leaving the audience swaying in time to his original cuts.
All proceeds from last night's concert will go toward ROC's programs to support local refugees and raise awareness about population of local refugees in upstate New York.