Ithaca College held its 12th annual Graduate and Professional School Fair from 5:30 to 7:30 p.m. Tuesday in Emerson Suites, giving students the opportunity to look into different graduate degree programs.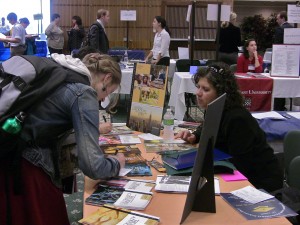 There were an assortment of programs represented including business, communications, education, health sciences, human services, law, medicine and public affairs.
The college's Office of Career Services plans the fair each year in conjunction with other graduate school fairs across central New York career counselor Caryanne Keenan said.
"There is a wide array of schools that come to the fair so it opens up options for students," she said.
This year 113 schools were present at the event. Keenan said the majority of these were law schools but "a really good mix of schools" was also represented.
Chloe Nelson, a junior anthropology major, said she plans to further her education at a graduate anthropology program. She said her issue with this year's Graduate and Professional School Fair was that it underrepresented some disciplines.
"I got all the information I needed from the fair, but they need to incorporate more schools for the social sciences," Nelson said.
Junior Natalie Bell is still deciding on her plans for graduate school but has narrowed down her search to law or international studies. Bell attended the fair last year and found more law schools and less communications schools were in attendance this year.
"In the future they need more variety," she said. "There were too many law schools. There was only one architecture program represented at the whole fair."
But, Bell said the schools that were represented gave helpful information.
Following the general fair, panels addressed further student questions. There was a panel for those interested in law schools and medical schools, the two divisions with the highest representation. There was also a panel for general graduate programs.
Keenan said the panels are helpful to students who want more information on the application process or enrollment requirements.
"The fair gives students an opportunity for face-to-face contact with representatives from the school and to be able to make a positive first impression," Keenan said.